Fighting dengue in Colombo: Pilot project with local BTI; Ministry to purchase 400 litres initially:
Posted by Editor on August 25, 2010 - 7:23 am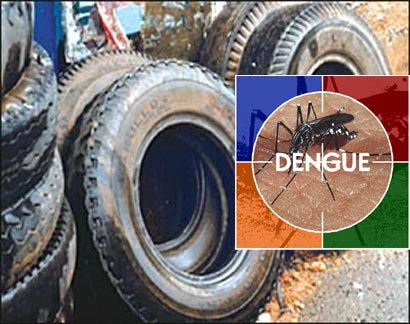 Daily News – By Chaminda Perera
The Health Ministry as a pilot project will utilize the much awaited locally produced BTI bacteria in the dengue control campaign in pre-identified locations in the Colombo district this week.
The Ministry will purchase 400 litres of BTI bacteria initially and further purchases will be made on the success of the pilot project.
Meanwhile, Health authorities have faced another hurdle in introducing the much awaited locally produced BTI to the provincial health sector after a high level committee comprising Central Province Medical Officers of Health refused to use it in the province.
According to Central Provincial Health Director Dr Shanthi Samarasinghe this product is still in the experimental stage and using of such a product to control dengue would cause many problems. She said the Committee has concluded that the BTI is a supplementary method in controlling the dengue menace and cannot be used in wells or drinking water vessels.
She is of the view that a field test on the bacteria has not been carried out and the label of the locally made bacteria hints that it is poisonous.
"Our staff has effected attitudinal changes among the people in the province and they are involved in cleaning their home environment in a proper manner," she added.
Dr Samarasinghe added that the introduction of this bacteria in the province would discourage the people involved in controlling dengue.
She added that the introduction of BTI bacteria would change the mindset of the people in the Central Province. She said dengue cases has seen a tremendous increase when compared with last year's figures.
However, a senior scientist of the Industrial Technology Institute reiterated that the bacteria was tried and tested in laboratories and outside for more than five years it would not cause any danger to the public.
She said the Institute has obtained the permission from Medical Research Institute for the production of this bacteria . "We have transferred technology to the company to produce this product under a comprehensive agreement for the next five years," she said.
Latest Headlines in Sri Lanka