FILM CONNOISSEUR ARUNA VASUDEV WANTS INDIANS TO PRODUCE FILMS ON BUDDHISM
Posted by Editor on May 8, 2012 - 10:41 am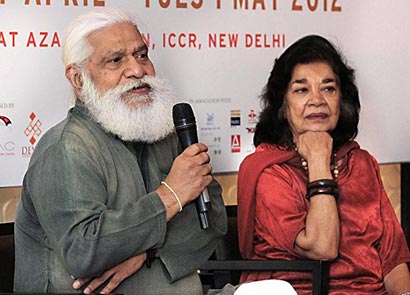 Onlanka News – by Walter Jayawardhana
(Photo: S. Subramanium )
"Film-makers in Buddhist countries are making impactful films which give people an understanding of the philosophy and aesthetic art of Buddhism. But I am unable to understand why Indian film-makers do not explore Buddhism as a subject. So this festival will give experienced and fledgling ones a fillip to make films on this subject," says Aruna Vasudev a cine connoisseur in an interview with the Hindu writer Madhur Tankha
The Cinemaya Buddhist film festival started on April 27 in New Delhi.
Sri Lankan Director Hector Kumarasiri's Abinikmana is an important entry at this film festival.
The following is the full text of the interview
"To explore Buddhism's link between India and South-East Asia, film connoisseur Aruna Vasudev has now conceptualised a multi-faceted festival giving Delhiites a glimpse of the culture and traditions of Bhutan, Sri Lanka, India and other countries.
Aruna, who first started the Cinemaya festival in 1999, says her new five-day-long festival titled "The Inner Path" which opens at the Indian Council for Cultural Relation's premises beginning April 27 cannot be compared with her earlier festival.
"The Cinemaya festival was huge in its scale whereas the upcoming one will be hosted for the first time in the country. It assumes significance because Buddha was born in the Indian sub-continent and Buddhism travelled from here to other countries. Film-makers in Buddhist countries are making impactful films which give people an understanding of the philosophy and aesthetic art of Buddhism. But I am unable to understand why Indian film-makers do not explore Buddhism as a subject. So this festival will give experienced and fledgling ones a fillip to make films on this subject," says Aruna.
While for the Cinemaya Festival Aruna used her contacts to get experienced and contemporary Asian film-makers agree to screen their films in Delhi, in the upcoming event she has collaborated with Indian Council for Cultural Relations president Suresh Goel and film-maker Suresh Jindal to ensure that the festival connects with people with varied interests.
"Buddhist festival is an annual feature in quite a few countries, but not in India. My friends at Network for Promotion of Asian Cinema in Singapore were urging me to host this festival in Delhi. We will try to make it an annual event. This festival is popular in South-East Asian countries where Buddhism is a way of life."
To throw light on the lifestyle of people in Buddhist countries and their philosophy, 12 feature films and ten documentaries will be screened. Besides films, creative expressions like an exhibition of photographs, a dance presentation and dialogues presenting the authentic picture of Buddhist philosophy and aesthetics have been included to create a better understanding of the Buddhist way of life.
Film-maker and art historian Benoy K. Behl, who is widely acknowledged as a specialist on Buddhist heritage has been roped in. "Fourteen films of Benoy depicting four Buddhist pilgrimage sites of Sarnath, Bodhgaya, Lumbini and Kushinagar will be screened. The other Indian film-maker is Romesh Sharma whose "Religious Linkages between Bhutan and Ladakh" will be screened. Other film-makers are from Argentina, China and Japan."
World premiere of Sri Lankan film-maker Hector Kumarasiri's film Abhikmana will be another attraction. The film-maker will fly from Colombo to be with film lovers. Other personalities including Sri Lankan film star Thumindu Dodantenna and Korean director Yoon Yong-Jin will also make their presence felt.
The intellectual aspect of the festival has been strengthened by inviting experts on Buddhism to deliver lectures and debate. "My friend Prof. Shashi Bala suggested that there must be a discussion on Bodhisattva tradition to dispel misunderstandings surrounding it. She is conducting a two-day panel discussion beginning April 30. We will also have a preview of Benoy Behl's exhibition of 100 photographs of Buddhist heritage in Myanmar, Thailand, India, China, Japan, Mongolia, Afghanistan and 12 other countries. This exhibition will be travelling to London, Washington D.C. and Tokyo to showcase the birth and development of different schools of Buddhism in India and their spread to other Asian nations."
Latest Headlines in Sri Lanka