First clear yourself, says Govt. to SF
Posted by Editor on June 15, 2012 - 4:32 pm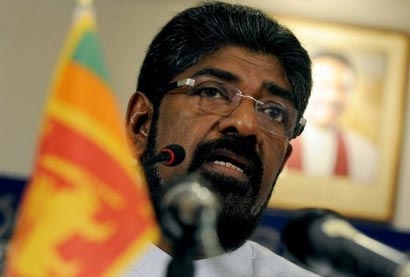 Government spokesman and Media Minister Keheliya Rambukwella said that the former army commander Sarath Fonseka should clear himself first before pointing fingers at the government.
"The fact of the matter is that he should clear himself before he makes allegations against the government or somebody else. The fact still remains that his son- in-law is a wanted man and is absconding. He should accept that and bring him before justice and clear himself if he is so keen about anti-corruption," he said.
When it was pointed out by 'Daily Mirror' that the former army commander had clearly stated that he and his family were the victims of a political witch-hunt, Rambukwella queried if Fonseka was implying that the judiciary was corrupt?.Daily mirror website reported
"In that case he must first tell the country that the judiciary is corrupt. If he says that the entire judiciary is corrupt that is a different story. But if he believes in the judiciary he must first be cleared before he points his finger at anybody else," he said.
When questioned about the former army commander's manifesto in which he has said that the entire country was riddled with political interference, Rambukwella said that Fonseka himself had been brought in as the army commander due to political interference. "In fact a retired army officer was brought in as the army commander and that can be interpreted as political interference. Appointing him as the army commander was a clear mistake and he has been part and parcel of what he is alleging," he said.
Source: Government News Portal
Latest Headlines in Sri Lanka