Flood damage exceeds Rs 50 billion
Posted by Editor on February 8, 2011 - 6:06 am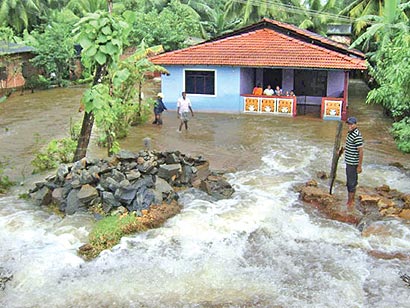 The total damage due to the latest wave of floods and landslides caused by torrential rains could exceed Rs 50 billion, Disaster Management Minister Mahinda Amaraweera said yesterday. The Minister said that even though a proper assessment is yet to be made, the damage caused by floods was extensive.
The Disaster Management Centre yesterday said that around 2,273 houses have been fully damaged while another 13,148 houses were partially damaged so far.
According to Agriculture Ministry sources, 71,000 hectares of paddy cultivation were badly affected. They said that over 20 percent of the paddy harvest this season were destroyed. Vegetable cultivations in the upcountry too have been affected significantly.
According to the same sources, more than 400 small and medium scale irrigation tanks and anicuts have been damaged with the North Central Province being the hardest hit.
Meanwhile, the Meteorology department yesterday predicted more rain in several districts even as the number of affected persons due to the latest wave of floods and landslides rose to over 1.2 million.
Issuing a bad weather advisory for the next 12 hours from 8 am yesterday, the Met Department said that rain exceeding 100 mm at some places will occur in Northern, North Central, Eastern, Uva and Central provinces and Hambantota district.
The low pressure area is still affecting the weather over the island and in addition to the above areas, cloudy skies with some showers can be expected over the other areas too, they added. Minister Amaraweera said that the Government has taken all possible measures to help the affected. Relief measures are going on with security forces assisting local authorities, he added.
The Government has also allocated Rs 800 million to provide dry rations for the affected. The President has instructed officials to provide this concession to the people irrespective of their income or whether they have sought lodgings in temporary shelters.
The dry rations for the affected are to be provided up to six months through cooperative societies, the Government Information Department said.
In addition, the Health Ministry has formulated a special health program to ensure the health of the affected people.
Meanwhile, heavy showers lashed several parts of the already badly hit Anuradhapura district yesterday, sources in the area said.
According to our Kalawanchikudy correspondent E Pakikiya Rajah rains in Batticaloa were continuing displacing over 78,000 people. Quoting Met Officials in the area, he said that since January 1, 2011 Batticaloa district had received 1,689.1 mm of rain exceeding its annual average rain fall of 1,652 mm. The DMC issuing a report on the latest situation at 1230 pm yesterday said that the number of affected persons had risen to 1,223,052. Eleven people have died while three are reported to be missing, they added.
According to them Trincomalee, Anuradhapura, Polonnaruwa, Ampara and Batticaloa districts are the hardest hit.
The number of displaced persons lodged in temporary camps have risen to 311,281.
Courtesy: Daily News
Latest Headlines in Sri Lanka