Floods hit over 1.2 million
Posted by Editor on February 7, 2011 - 9:11 am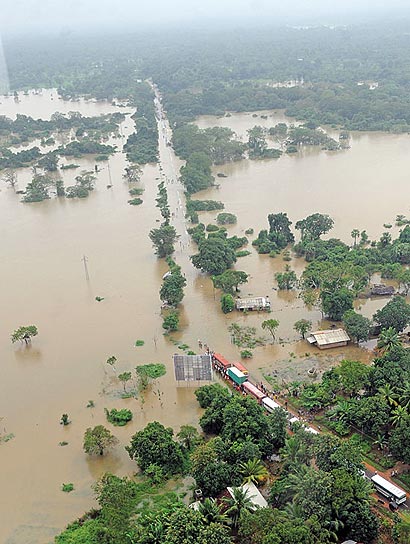 Around 1,243,478 people in 18 districts have been affected by floods. Eleven deaths due to floods and landslides have been reported so far while 250,501 people have been displaced, the Disaster Management Centre yesterday said.
Meanwhile, the Government yesterday said it has taken all possible measures to help more than one million people affected by the monsoonal flooding.
Disaster Management Minister Mahinda Amaraweera said that the Government had spent nearly Rs 150 million to help the affected. The Minister who toured a number of flood affected areas in the North Central, North and Eastern provinces in the company of Namal Rajapaksa MP yesterday said that the Government had deployed security forces to help local authorities to carry out rescue and relief operations.
The affected are to be provided with dry rations and other relief goods up to six months. Cooked meals and dry rations are to be provided to the affected residing outside IDP camps as well, in accordance with a Presidential directive.
Government Ministers, MPs and other officials were in the affected areas yesterday to help carry out the relief measures.
Meanwhile, the Sri Lanka Navy has deployed 40 relief teams to the flood affected districts. The Navy has also taken steps to assign more teams in camps surrounding the flood affected areas to provide additional support if the flood situation worsens. Naval teams have been assisting local authorities in operations to rescue people marooned by the floods.
Sri Lanka Air Force deployed helicopters to rescue people marooned due to floods and transport dry rations and cooked meals to affected areas. The Air Force since last Thursday has saved more than 50 people marooned in flood affected areas.
The Anuradhapura, Polonnaruwa, Batticaloa, Trincomalee, Badulla, Nuwaraeliya and Ampara districts have been the hardest hit.
Over 200,000 people have been affected due to floods in Anuradhapura. According to the Disaster Management Centre 808 people have sought refuge in temporary camps as of yesterday. Nearly 300 houses have been damaged while damages to crops have been extensive.
Low-lying lands in and around Anuradhapura town are heavily flooded.
Two spill gates of Kalawewa, 20 spill gates of Rajanganaya tank and six spill gates of Nachchaduwa tank have been opened.
Handungama, Aukana and Malwathuoya bridges are inundated. Low lying areas of Galnewa, Ipalogama, Talawa, Tambuttegama, Kalaoya and Yanoya are inundated while Horowpathana town is reported to be heavily flooded.
In Polonnaruwa 20,739 people have been affected and 19,909 displaced. Two deaths have been reported so far. The worst affected areas in Polonnaruawa district are Medirigiriya and Lankapura.
Several spill gates of Kawudulla and Minneriya tanks have been opened. Galella, Manampitiya area in Polonnaruwa-Batticaloa road is impassable due to flooding, sources said. It is reported that water has risen above the 20-feet bridge, the Kalagedi Palama, that connects Medirigiriya to Polonnaruwa district. Medirigiriya town too is heavily flooded, according to local reports.
Over 324,556 people have been affected by the rains in Trincomalee district. A total of 73,496 persons have moved to temporary shelters. According to Disaster Management Centre sources some low lying areas and some roads are inundated due to over flowing of irrigation tanks. Muttur, Seruwila, Verugal and Kinniya DS divisions have borne the brunt. Trincomalee – Verugal, Trincomalee – Batticaloa and Trincomalee – Habarana roads are reported to be impassable.
In Batticaloa, 94,354 have been displaced due to floods from among 240,366 affected. One death due to drowning too has been reported. Koralei Pattu South, Koralei Pattu Central, Manmunai North and Manmunai Pattu DS divisions are heavily affected. The transport is at a standstill in most areas, as many roads are inundated according to reports.
Landslides caused by heavy rains has killed one person and displaced nearly 3,769 in Badulla. Nearly 150 houses have been damaged. Due to landslides threats, 30 Buddhist monks in Mawalangala Aramaya, have been temporary evacuated to a safer location.
Landslides have occurred in Bandarawela, Haputale, Uvaparanagama, Mahiyangana, Meeghakiula, Welimada, Soranathota and Passara causing damage to both man and property and also disrupting transport.
Nuwaraeliya – Ragala road is reported to be impassable due to both landslide and flooding. Vegetable cultivations in the area have also been severely affected.
DMC officials are keeping a close eye on landslide prone areas and steps are to be taken to evacuate residents in case a need arises. At present nearly 700 people are lodged in temporary camps.
According to the DMC, nearly 282,685 people are affected due to floods in Ampara. At present 14,000 people are lodged in temporary camps.
According to reports the Kalmunai DS division has been the hardest hit. So far one death has been reported due to drowning. Nearly 400 houses too have been damaged.
Source: Daily News
Latest Headlines in Sri Lanka