Flood deaths rise to 23 with over 266,740 affected
Posted by Editor on December 20, 2012 - 9:19 am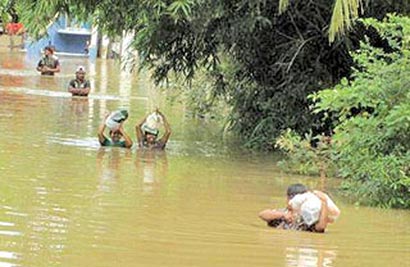 Three more deaths from floods and and earth slips were reported yesterday, bringing the death toll to 23 while the number missing rose to 15 and injured to 34. The Disaster Management Centre (DMC) said relief for those affected is being provided and rescue operations were being conducted by the Army, Navy and the Police. The DMC said the number of families affected by heavy rains, winds, landslides and floods increased. It said the number of flood-affected families increased by 20,798 and affected persons by 88,882.
A total of 266,740 persons from over 68904 families have been affected by floods, landslides and cyclonic winds that accompanied torrential rains in several parts of the country during the past few days.
A DMC spokesman said 8,533 persons belonging to 2,202 families are housed in evacuation centres. Forty seven evacuation centres have been set up to accommodate the marooned victims.
One hundred and forty one houses in Matale, Kandy, Polonnaruwa, Batticaloa, Badulla, Monaragala and Kegalle were totally damaged while 805 houses have been partially damaged. The worst affected was Batticaloa district.
Around 50,000 persons from 14,348 families have been affected in the Uva Province. They are from Koralaipattu, Erawurpattu, Porathiwupattu, Kattankudi and Mariumepattu.
Around 11,615 persons belonging to 2,685 families in the Southern province have been affected by floods while nearly 11,600 persons belonging to 2903 families were affected in the Puttalam district, 8,312 persons (2,197 families) in the North Western Province, 2,504 persons ( 590 families) in the Central Province and 5,554 persons ( 1,500 families) in the North Central Province have been affected. Around 2,168 persons belonging to 556 families have been lodged in seven evacuation centres in the Batticaloa district. Another 330 persons from 78 families in Monaragala are also in another evacuation centre.
Courtesy: Daily News
Latest Headlines in Sri Lanka