Fonseka found guilty; sentenced to 3 years
Posted by Editor on November 18, 2011 - 12:12 pm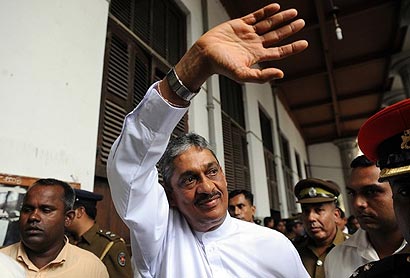 Sarath Fonseka was found guilty and sentenced to 3 years in prison after the verdict of the case regarding the 'White Flag' statement was given today (November 18) by the Colombo High Court.
The former Army Commander is accused of inciting violence by, in an interview given to the Sunday Leader, alleging that Defence Secretary Gotabaya Rajapaksa gave an illegal order not to accommodate any LTTE cadres attempting to surrender with white flags.
Fonseka, who is currently serving a 30-month jail term imposed by a court martial, will face 3 years imprisonment.
Security was tight around the Colombo High Court ahead of the judgement, with hundreds of armed police guarding the complex.
The charges against Fonseka stem from comments he made to a newspaper that troops had shot dead a number of Tamil Tiger separatist leaders when they tried to surrender at the end of Sri Lanka's long-running ethnic conflict in May 2009.
Fonseka insisted the published comments — which suggested Defence Secretary Gotabhaya Rajapakse, the brother of President Mahinda Rajapakse, had ordered the killings — had misquoted him.
"I have never made any statement that was in opposition to the country or the army," the former Army Commander had said.
He had further stated in courts that the journalist Fredrica Janz had distorted a reply that he had given to a question that she had put forward in her own words in order to build this story.
The trial before a three-judge high court bench took 16 months. Fonseka supporters had staged demonstrations during previous hearings.
A former four-star general, Fonseka led the Sri Lankan army to its 2009 victory over the Liberation Tigers of Tamil Eelam (LTTE), ending the island's 37-year separatist conflict.
But he has since fallen out with the government and says the legal cases against him are politically motivated.
Fonseka was arrested shortly after he failed to unseat President Rajapakse at a January 2010 election.
In September last year, a court martial sentenced him to 30 months for corruption related to irregularities in military procurements as army chief. He also lost the parliamentary seat he won in April 2010 polls.
An earlier court martial found him guilty of interfering in politics while in uniform and stripped him of his rank and pension.
The leader of the Democratic national Alliance (DNA) making a statement during the White Flag trial had stated that he would accept a ruling given by an independent judiciary while adding that he has helped save the country from terrorism and will now continue his fight to rid the country of corruption.
Friday's verdict coincides with President Rajapakse's 66th birthday and the court complex was decorated with huge cut-outs of the president's image.
Courtesy: Ada Derana
Latest Headlines in Sri Lanka