Sri Lanka's jailed ex-army chief Fonseka given new term
Posted by Editor on November 19, 2011 - 7:50 am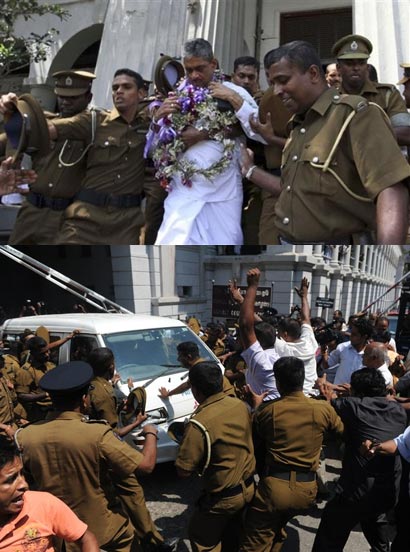 A court in Sri Lanka has jailed former army chief Sarath Fonseka for three years for implicating the government in war crimes.
The court ruled that he lent credence to allegations the defence secretary ordered Tamil Tigers to be killed as they tried to surrender in May 2009.
Fonseka rejected the verdict, telling the court was it politically motivated.
He is already serving 30 months after a court martial last year convicted him of irregularities in army procurements.
Sarath Fonseka led Sri Lanka's military to victory against the Tamil Tigers in 2009.
But shortly afterwards he fell out with President Mahinda Rajapaksa, challenged him in a presidential election, lost and was arrested on a variety of charges.
On Friday the High Court in Colombo found him guilty on the charge of "spreading disaffection" – relating to a newspaper interview in which he apparently backed allegations that defence secretary Gotabhaya Rajapaksa, the president's brother, ordered surrendering Tamil Tiger leaders to be shot in May 2009.
Fonseka says he was quoted out of context in the 13 December 2009 Sunday Leader article.
Appeal
One of the three judges on the bench dissented from the verdict. The 60-year-old former general was cleared on two other counts.
He faces two more court cases, including one of harbouring army deserters. The next court case starts in January.
The BBC's Charles Haviland in Colombo says the charge on which Sarath Fonseka was convicted on Friday is the most serious he has faced so far – he could have been jailed for up to 20 years.
The sentence will begin in mid-2012, after Fonseka has finished serving his current term. His lawyer told the BBC he would appeal against the verdict.
An emotional Fonseka told the courtroom the judgement was aimed at keeping him out of politics.
"I don't accept this guilty verdict… This conviction happens under a dictatorship," he told the court, AFP news agency reports.
Fonseka was bundled swiftly out of court – as he was led out by the back entrance to be driven away, a yelling mob attacked his van. Minutes earlier he had been garlanded by supporters.
"I know about my husband, what he has done for the country, and he didn't do anything wrong. That is why they are going to fight against that decision," his wife, Anoma, said.
'War hero'
There has been some support for the former army chief in Sri Lanka, with supporters staging demonstrations during earlier hearings.
He had been regarded as a war hero by many across the country and seen as instrumental in defeating the rebels after decades of conflict.
An ardent nationalist of the Sinhalese ethnic majority, his downfall came when he fell out with his ideological soul mate, President Mahinda Rajapaksa, shortly after the end of the war over who should claim credit for the victory.
Our correspondent says this court case, dubbed the "White Flag" case, points to the danger faced by anyone in Sri Lanka who dares accuse the government of war crimes.
The government has firmly denied committing them – it has rejected persistent calls for an independent war crimes inquiry.
BBC News Report / Pix by AP / Getty Images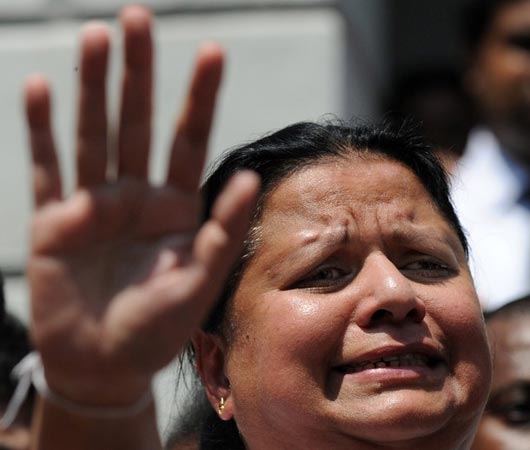 Latest Headlines in Sri Lanka