FORMER ARMY COMMANDER SARATH FONSEKA TAKEN TO A PRIVATE HOSPITAL FOR TREATMENT
Posted by Editor on May 16, 2011 - 3:35 pm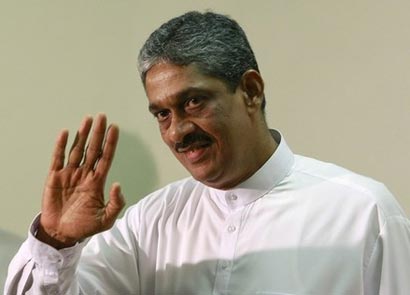 Former Army Commander Sarath Fonseka was taken for treatment to a private hospital in Colombo today.
According to Newsfirst Correspondent, Fonseka was escorted to hospital amidst the security of prison officials.
Sarath Fonseka was taken to hospital this morning.He was then shown to Specialist Dr. Vajira Tennakoon.
"They speak about the motherland for everything including petrol prices, the floods and flour prices increasing. You cannot fool the people everyday," said Fonseka.
According to DNA MP Tiran Alles, special attention was paid during today's visit  to the throat and lung ailments of the former army commander
"Dr. Vajira Tennakoon said after examining him that he had a throat and lung ailment. We were given a report to present to court. Thereby, we will inform court about his condition. The doctors told prison officials to bring him for more tests in a month," said Tiran Alles.
Courtesy: News First / Pix by Reuters
Latest Headlines in Sri Lanka