President's Vesak message
Posted by Editor on May 17, 2011 - 6:45 am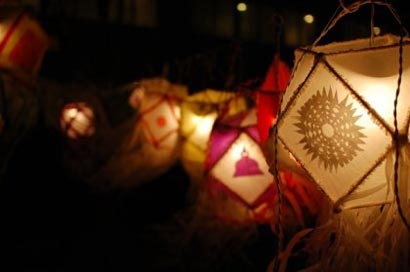 It is with immense fervor and devotion that we celebrate, with full State patronage, the thrice blessed festival of Vesak this year, which also marks the 26th Sammasambuddhatva Jayanthi.
Through 2600 years the teachings of the Buddha have shown the correct path of livelihood to mankind. The comfort and consolation these provided to humans remain immeasurable. Today, our motherland is honoured throughout the world for preserving the teachings of the Buddha in their pristine purity through two millennia and more.
In achieving a lasting and sustainable peace in our land and help us move to our goals of development, we have sought to follow the teachings of the Sakyamuni Sammasambuddha that showed the path to free us from the four evil dispositions of desire, hatred, fear and ignorance.
Accordingly, the policies of our government give the foremost place to the Buddha Dhamma.
Akkodhena jine kodham – asaadhum saadhunaa jine
Jine kadariyam daanena – saccena alikavaadinam
"Let an angry man be conquered by love; an evil man by goodness. Let a miser be won over by liberality; and a liar by truthfulness", states the Dhammapada in the "Koda Vagga". This exhortation of the Buddha should always nurture us in facing up to all challenges.
The teachings of the Buddha help us to bring to the world the means of resolving all disputes that arise from unbridled desire. Thus it behoves upon us to give to the world the path to peace and consolation from these great teachings of the Sammasambuddhatva or Great Enlightenment of the Buddha, 2600 years ago.
On this Vesak festival it should be our determination to take refuge in the teachings of the Buddha, and through the proper observation of the teachings of Buddhism make this 2600 Sammasambuddhatva Jayanthi meaningful to all people.
May the Noble Triple Gem bless you!
Mahinda Rajapaksa
Latest Headlines in Sri Lanka