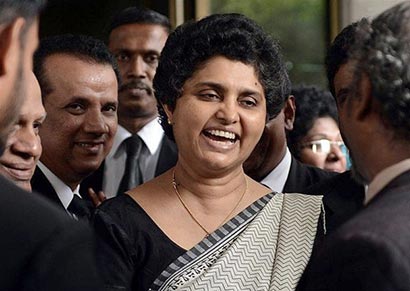 The Bribery Commission today withdrew all three ongoing cases against former Chief Justice Dr. Shirani Bandaranayake over non-declaration of assets in 2010, 2011 and 2012.
The Colombo Magistrate's Court today acquitted and released her from the case after the Commission to Investigate Allegations of Bribery or Corruption decided to withdraw the charge sheet.
Colombo Chief Magistrate Gihan Pilapitiya also ordered the removal of the ban imposed on Bandaranayaka from traveling abroad and to release the her passport which was in the custody of the court.