Sri Lanka raise interest rates after seeking IMF bailout
Posted by Editor on February 20, 2016 - 8:48 am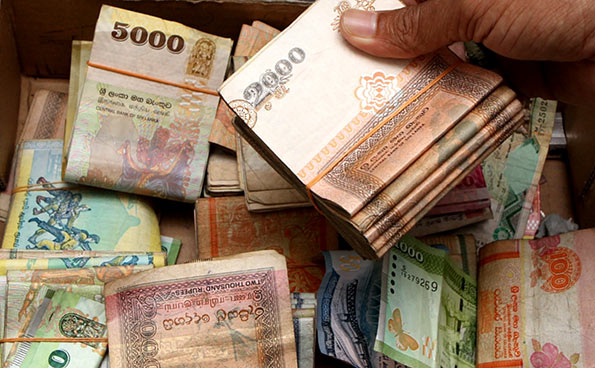 Sri Lanka's central bank Friday raised benchmark interest rates for the first time in nearly four years by 50 basis points ahead of a possible IMF bailout.
The Central Bank of Sri Lanka raised its lending rate from 7.5 to 8.0 percent, saying that relatively cheap money had the potential to fuel demand-driven inflation that could undermine the fragile economy.
The previous rate increase was in April 2012 when it was increased by 75 basis points to 9.75 percent
Even before Friday's rate increase, commercial banks had been increasing their lending rates by as much as two percentage points, anticipating a move by the central bank to tighten monetary policy to curb inflation.
"The monetary board (of the central bank) observed that, in spite of the recent policy measures… and some upward adjustments observed in market interest rates, certain risks to macroeconomic stability continue," bank said in its monthly review of the economy.
The bank said year-on-year inflation climbed to a staggering 4.6 percent in January, up from 0.8 percent in 2015.
The rate hike came as Sri Lanka made a formal request for an IMF bailout package to aid its struggling economy after a sharp slowdown in growth and a widening budget deficit. Details of any bailout are yet to be finalised.
Sri Lanka enjoyed a blistering economic growth rate averaging more than 8.0 percent for two years after a prolonged civil war ended in 2009.
But the pace of expansion has since slowed, falling to 4.8 percent in the third quarter of 2015, according to official data.
Prime Minister Ranil Wickremesinghe told parliament last month that he was keen on negotiating an IMF bailout to deal with the fallout of a global economic downturn on his country of 21 million people.
The IMF, which sent a mission to review Sri Lanka's economy earlier this month, said it had warned the authorities they should make a "stronger effort" to immediately reduce the budget deficit.
Sri Lanka sought an IMF bailout immediately after the new government took office in January last year but the fund turned down the request, saying the country's reserves were at a comfortable level.
It received $2.6 billion from the IMF in 2009 to boost its financial reserves, which had dropped below $1 billion at the height of fighting between Tamil Tiger rebels and government forces.
(AFP)
Latest Headlines in Sri Lanka