Former LTTE official recounts last stages of war: LTTE did not consider age for combat
Posted by Editor on December 13, 2011 - 7:06 am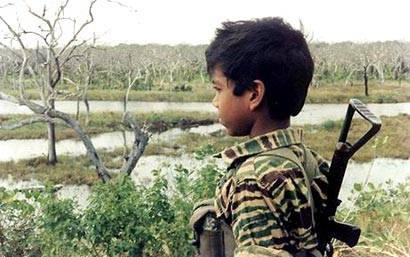 The LTTE holed up in the ever-diminishing territory in northern Sri Lanka forcibly recruited children to take part in final defences against government troops, according to a former senior LTTE official, the British newspaper, The Independent reported.
Some of the youngsters were sent to fight with just one day's basic training, The Independent reported quoting an unnamed official, 'who held a non-military position with the LTTE'.
A number of civilians who tried to escape to the government side were shot.
The official, who held a non-military position with the Liberation Tigers of Tamil Eelam (LTTE), said that in the spring of 2009, the Tigers found themselves in an ever-worsening situation that led them to step up their forced recruitment of civilians between the age of 14 and 55.
He said more than 300,000 civilians had intentionally been held to provide cover for the LTTE fighters.
"There was no age discrimination. One day's training and then (they would) get sent to the war front," said the former official, who said his own child had been forcibly recruited, but that he was able to escape towards government troops.
Asked if he believed the LTTE committed war crimes, the former official said: "There were many war crimes during that last time. The civilians knew (what was happening). They could not move out of LTTE control. Some people who tried to leave were shot."
The testimony from the official, who asked that neither his identity nor the location of the interview be revealed, provides an important insight about the final stages of the war, which resulted in the crushing of the LTTE and the killing of most of its leaders.
The official also provided an insight into how the LTTE's leader, Velupillai Prabhakaran, seized on the ambitions of Tamil nationalists, including those who were opposed to violence.
"He was a good leader. In all things he was adamant, he was focused. There is no chance for another uprising now.
There is no leadership," he said. "The Tamil diaspora can provide some political pressure, but anything else is not possible."
Asked about the later tactic of the LTTE to target civilians and even schoolchildren, the official said not everyone within the movement supported the move and were aware of the international backlash it would bring. "That was why they denied it," said the official.
As to why the tactic was adopted, he said: "They wanted to create a panic among the Sinhala people."
He added: "We need a political solution, but without the support of the Sinhala people, the Tamil people cannot get a political solution." Courtesy: The Independent
Courtesy: Daily News
Latest Headlines in Sri Lanka