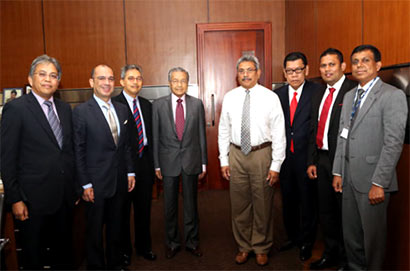 The former Prime Minister of Malaysia Tun Dr. Mahathir Mohamed made a call on to Secretary Defence and Urban Development Mr. Gotabaya Rajapaksa today (10th December).
High Commissioner of Malaysia in Sri Lanka His Excellency Mr. Azmi Zainuddin was also present at the occasion.
Dr. Mahathir Mohamad and Mr. Rajapaksa had cordial discussions during the meeting on matters of bilateral importance and mutual interests.
Mr. Rajapaksa presented a memento to the visiting dignitary to mark the occasion.
(Ministry of Defence)