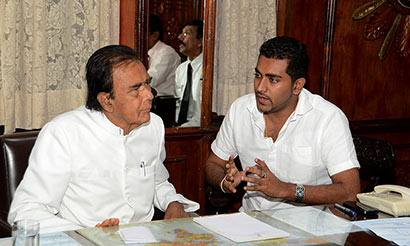 Anuradha Jayaratne, son of former Prime Minister D. M. Jayaratne, and three other persons were enlarged on bail by the Gampola Magistrate's Court, this morning.
The suspects including Jayaratne, Gampola Urban Council member Taranga Wittachchi, Udapalatha Pradeshiya Sabha member Sumudu Bandara, and a Ministerial Security Division (MSD) officer were released on a cash bail of Rs. 50,000 and personal bail of Rs. 200,000 by Magistrate Upul Rajakaruna.
The police launched its inquiries after a mob which allegedly led by Anuradha Jayaratne attacked the venue of President Maithripala Sirisena's election campaign on 31 December, 2014. On the same day, a UNP propaganda office in Gampola was burned and New Democratic Front (NDF) Provincial Councilor, Channa Galappatti was assaulted by an unidentified group of people.
The case will be heard again on 20, March.
(Ada Derana)