Friend turned foe – the challenger for Sri Lanka's presidency
Posted by Editor on January 5, 2015 - 6:00 pm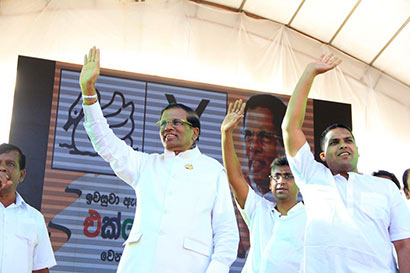 Over a dinner of rice-flour pancakes with his trusted health minister one evening in November, Sri Lankan President Mahinda Rajapaksa observed with a grin that there would be no serious candidate to challenge him in the coming presidential election.
Little did Rajapaksa know then that the man who would stand in his way of winning an unprecedented third term as president of this Indian Ocean island nation was right beside him.
"When he said that nobody was going to challenge him, I was next to him and felt sorry for him," Mithripala Sirisena later told a campaign meeting on his decision to turn on the president and run as the opposition's common candidate in Thursday's poll.
"I came out because I could not stay anymore with a leader who had plundered the country, government and national wealth."
Branded a "traitor" by Rajapaksa's close allies, Sirisena has forged many political alliances and now appears to be within striking distance of unseating a president who, just weeks ago, had looked unassailable.
Since Sirisena's defection, 25 Rajapaksa loyalists in the 225-seat parliament have followed, unleashing a wave of popular disgust with a leader whose once-extraordinary popularity has withered amid complaints of autocracy, corruption and nepotism.
Victory for Sirisena would put a full stop on a reign that brought brisk economic growth following the end of a 26-year conflict with Tamil Tiger separatists in 2009, deepening ties with China and souring relations with Western nations over allegations of war crimes and rights abuses.
Sirisena has vowed to scrap a $1.5 billion deal with China Communications Construction Co Ltd to build a port city and a casino license that was given to Australian gambling tycoon James Packer's Crown Resorts Ltd.
The 63-year-old leader from the rural heartlands projects himself as a champion of the farming masses, a clean-living figure who has campaigned against smoking and abjures alcohol.
There is no credible and unbiased opinion poll on the election outcome.
A NEW BROOM
Sirisena still represents the country's Sinhalese Buddhist majority, who account for 70 percent of its 21 million population, and he was acting defense minister when the war against the Tamil Tigers reached its bloody climax in 2009.
However, he also has promised a new broom that has appealed to ethnic Tamils, Muslims and Christians in a country where minorities have felt increasingly marginalized.
He has pledged to deal with war-crimes allegations through an independent mechanism, establish independent commissions to secure the impartiality of the judiciary, police and other public services, and crack down on corruption.
Sirisena was just 16 when he first took on the establishment, joining an anti-government rally organized by a communist party that ended within minutes as police waded in. He ran for safety through the unknown streets of the capital, Colombo, before taking an overnight train to his village.
He was jailed for 15 months in 1971 for alleged involvement in an insurrection led by Marxists, and was arrested eight years later for organizing a public protest.
After joining mainstream politics, he was offered the post of prime minister by Rajapaksa's predecessor but he declined it.
Few would have believed that Sirisena would now be so close to toppling a president who had basked in popularity after winning the war and skillfully kept his opponents at bay.
Sarath Fonseka, the general who led the military to victory, was sentenced to prison after challenging Rajapaksa in a 2010 election, while a chief justice was impeached after she ruled against a Rajapaksa government poverty alleviation bill.
Rajapaksa had also benefited from the disunity of opposition parties, which have now united behind his rival.
"Today 48 political parties and organizations have united as a common coalition regardless of party policies, ethnicity and religion to defeat Rajapaksa's corrupt regime," Sirisena said.
(Reuters)
Latest Headlines in Sri Lanka