From cancer to international cricket, Yuvraj Singh's comeback is complete
Posted by Editor on September 12, 2012 - 8:49 am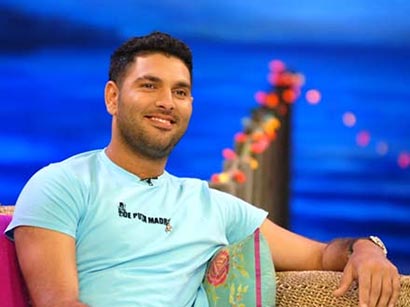 A few months ago, Yuvraj Singh was in hospital undergoing chemotherapy. On Tuesday, he stepped out onto a cricket field for the first time in over year. He bowled, fielded and batted like he had never left the international stage. India lost the match by one run, but that seemed entirely secondary compared to Singh's remarkable journey back to the top of the world.
When the tumour – which was located between his two lungs – was first discovered, Singh thought it was just a non-malignant lump. As he struggled to find exactly what the cause was, Singh was excluded from the Indian squad for a few international tours. The 30-year old was later diagnosed with a rare form of cancer called mediastinal seminoma, a germ-cell tumour.
From the onset it was clear that Singh wasn't going to go down without a fight. Doctors were always positive that he would make a comeback, but most thought it would take much longer than just a few months. As he completed chemotherapy around March, there was always the question of whether he would be fit enough to make it back into the fold before the end of the year.
He worked extremely hard, however, spending most of his time at The National Cricket Academy (NCA) in Bangalore. Singh was adamant that he didn't want to rush his comeback, but admitted that his goal was to get back to playing for India in top form.
"It's not very easy on the body. I have gone through a lot and my body has gone through a lot of shock," Yuvraj said back in June. "People are expecting me to come back very quickly, but I don't want to rush. I will have to take my time and come back 100% fit."
Fast forward just a few months and Singh is wearing Indian colours, and will be part of the T20 World Cup side for the upcoming ICC World T20 in Sri Lanka.
"It is hard to believe that I will be playing for India again," Yuvraj said ahead of the first Twenty20 game against the Black Caps in the southern coastal town of Visakhapatnam (which was washed out).
"A few months back I had trouble climbing four steps, now I can't wait to take the field. It is like starting a new life."
When Singh came on to bowl at the Chepauk stadium on Tuesday, the cheers erupted and echoed all around the ground – and quite possibly all around India – for out in the middle of the pitch stood a man who has defied the odds and worked tremendously hard to reach a goal he had set for himself. In just a few months, Singh had become the darling of not only Indian cricket, but of world cricket.
Sports fans often hammer on about how nobody is bigger than the game, but on Tuesday, regardless of the result, Yuvraj Singh was.
Summary of results
New Zealand 167-5 (20 overs):  Brendon McCullum 91 (55), Kane Williamson 28 (47), Irfan Pathan 4-31-3
India 166-4 (20 overs): Virat Kohli 70 (41), Yuvraj Singh 34 (26), Kyle Mills 3-0-17-2
New Zealand won by 1 run. DM

Daily Maverick
Latest Headlines in Sri Lanka