Kudankulam: Anti-nuclear protests turn violent, 1 killed in firing
Posted by Editor on September 12, 2012 - 7:59 am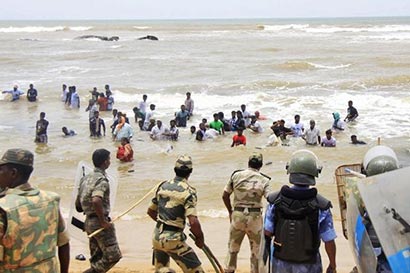 A protestor was killed when the police opened fire to control a mob after fresh clashes broke out near the Kudankulam Nuclear Power Project (KNPP) in Tamil Nadu's Tirunelveli district on Monday evening.
The firing took place in Manapadu area minutes after fresh clashes broke out between People's Movement Against Nuclear Energy (PMANE) protestors and security personnel.
Meanwhile, the protestors freed to police personnel who were taken hostage earlier in the day.
Earlier in the day, the police fired teargas shells and cane-charged the violent protestors to disperse them, while they were trying to lay siege to the controversial power plant demanding a halt to the loading of enriched uranium in the reactor.
Defying prohibitory orders, the protesters refused to disperse from the sea shores, barely half-a-kilometre from the project site despite repeated appeals by the police and local authorities. The protesters fought pitched battles throwing stones, logs and sand on the baton-wielding policemen who chased them.
As the stand-off continued in the morning, police brought in additional reinforcements while some protesters attempted to take the sea route to breach the tight security and reach the plant site, police said.
Police lobbed teargas shells and chased away the protesters, some of whom ran into the sea and shouted slogans against the police action.
Over 1,000 protesters have been present near the plant demanding Chief Minister J. Jayalalithaa's intervention to stop loading of fuel in the first reactor.
The area has been under a tight security blanket with around 5,000 security personnel deployed on duty. Prohibitory orders have been in place in a 7 km radius from the plant in view of the siege call given by PMANE, seen as a last ditch attempt to prevent commissioning of the plant.
The Tamil Nadu director general of police (DGP) briefed the chief minister about the situation in Kudankulam.
Regulatory authorities had recently given the go-ahead for loading the enriched uranium in the plant, whose commissioning was also given the nod by the Madras High Court.
The first unit of KNPP, an Indo-Russian joint venture, was scheduled for commissioning in December last, but was bogged down by delay due to protests against the project.
– With PTI inputs / Times of India

Latest Headlines in Sri Lanka