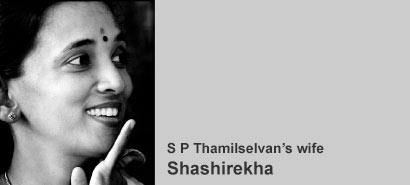 "Tamil Diaspora's bid to mislead us will not succeed' said S P Thamilselvan's wife, Shashirekha in 2011. The statement is self-revealing and conclusively states that the Tamil Diaspora has been misleading the Tamil people. It also means the Tamil Diaspora has been misleading the Tamil people. The interview itself is noteworthy to the UN investigators and all others who believe that compiling reports from overseas can shut out voices of those who had been very much part of the LTTE. The quick response is likely to be that Mrs. Thamilselvan has little choice now that she is outside of LTTE control but how is her fate any different from those in the opposite camp paid to give a totally opposite version and use that to witch hunt against Sri Lanka?
Who is Shashirekha
Born in Colombo to a family of 7, her father owned a shop opposite Majestic City, Bambalapitiya. She studied at St. Anthony's Girls school upto grade 3. The family left Colombo after the 1983 riots resulted in their shop being set on fire by mobs. Their new life started in Chullipuram, Jaffna and she had begun schooling at Vaddukoddai Vidyalaya where she studied upto to Ordinary Level and took up dancing and became a dancing teacher of Bharata Natyam. Her parents had returned to Colombo in 1990 while she remained in Nallur. Her fate changed the day she performed at an event organized by the LTTE. She was paid Rs.3000-4000 for every performance. Her association with the LTTE lost her relationship to her parents. When Jaffna was recaptured Shashirekha had relocated to the Vanni.
The proposal to marry Thamilselvan was brought by LTTE's Anton Balasingham. Within a month of the proposal being made they were married because Anton B had to return to treat his kidney ailment. Prabakaran and his wife Madivadini appeared as parents of Thamilselvan and Anton and Adele stood as parents of Shashirekha's. [Another example to showcase Adele's links to LTTE terrorism]
The marriage took place in Pudukudirippu home of Anton Balasingham. Both Thamilselvan's family nor her own were aware of the marriage. Even if they did, her family coming from a high caste would not have approved their daughter marrying a LTTE from the barber caste. Thamilselvan had told his mother that he knew of the marriage only 4 days before the ceremony.
Upon her marriage to Thamilselvan her name was changed from Shashirekha to Isaichelvi. What is curious is that Nadesan was the registrar of the marriage though for a marriage to be legal it must be attested by a registrar of marriages/a justice of peace/a notary public or a Minister! Shashirekha was also employed with the UN Agency – Save the Children Fund. Another fact would be to find out how many LTTE sympathizers or supporters were actually employed with UN and INGOs/NGOs that worked in the North under de-facto rule. If so
The Tamilselvans were given a house minus any special security though 4 LTTE escorts were given for Thamiselvan. They were upgraded to a two-roomed house in Pudukudirippu when Shashirekha became pregnant with their first child.
The control LTTE had over its cadres was evident following the death of Thamilselvan and the fact that his wife was taken to the spot only a day later and her own fear of crying calling out her fathers name instead of her husbands because even in her grief she knew the LTTE did not wish to make public the news of the death.
The death of Thamilselvan had also been a shock to Prabakaran who would not have ever thought the Sri Lankan AirForce could or would carry out such an attack.
People are appreciated only so long as they are useful to them and that is a lesson for everyone as Shashirekha herself found out after the death of her husband.  No one visited them and even a request to allow herself and parents to go to India was refused. Thamilselvan's wife ended up having to live in LTTE controlled territory by compulsion.
It was the fighting during the last stages that enabled Shashirekha and her children to finally escape to government controlled area.
She has debunked the stories of white flags being hoisted as well as quelled stories about harassment 'we felt secure from the way they (army) treated us'. From an LTTE sympathizer and wife of a key member of the LTTE to say that 'we were living between life and death' is poignant.
What is also poignant are her lines 'today we are living happily with my children who are continuing their education well. My parents are also living with me. The story about certain LTTE leaders coming to surrender raising white flags is a fairy tale. None came to surrender with white flags."
Moreover, when Shashirekha the wife of Thamilselvan says
"Today as a Tamil I have to say that we don't need any conflict with the others in Sri Lanka and I would like to tell the Tamil diaspora that their activities will not benefit the Sri Lankan Tamil people. The diaspora by their activities is trying to destroy the Tamil people and I also would like to tell them that we do not need a war. We are being looked after well by the government and the armed forces of Sri Lanka but the diaspora who are living abroad do not know that the Sri Lankan Tamil people do not need any further armed conflicts. I have deep faith in my religion Hinduism and I would continue to live with my children according to the tenets of my religion and I would like to tell the Tamil diaspora that their efforts to mislead our people will not succeed." (Shashirekha, wife of Thamilselvan)
These lines should be translated into Tamil and distributed amongst the TNA and their supporters as well as any other Tamils who wish to play mischief with peace while the interview itself should be sent to all Tamil Diaspora groups for them to realize that holding foreign passports and vying for Eelam, educating their children abroad and telling Tamil children in Sri Lanka to take up arms is just not going to work any longer. Tamils in Sri Lanka should not be fooled again.
Source : The Nation (28 August 2011); Interviewed by Chamara Lakshan Kumara URL http://www.nation.lk/2011/08/28/inter.htm
– by Shenali D Waduge