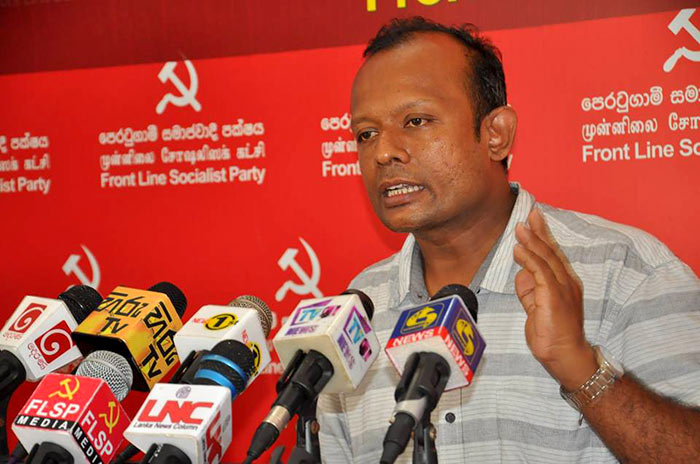 The Frontline Socialist Party (FSP) was ready to work with the Janatha Vimukthi Peramuna (JVP) or any party who called themselves as leftists at this juncture where the county was embroiled in a devastating situation in terms of politics, the economy and the Constitution, FSP Education Secretary Pubudu Jayagoda said.
Addressing a news briefing today, he said they would work with anybody except with Mahinda Rajapaksa, Maithripala Sirisena and Ranil Wickremesinghe who should be held responsible for this prevailing anarchical state.
"The tactics of President Sirisena have resulted in a crisis situation and led to a Constitutional crisis as well. The recent speech delivered by President Sirisena shows how irresponsible he is. He said at the speech that parliament was dissolved due to the sad situation where elected MPs were putting a price on their value and the 'amazing behaviour' of Speaker Karu Jayasuriya," Jayagoda said.
"If he had been so concerned of the sad situation where elected MPs were putting a price on their value, he as the executive should have taken steps instead of dragging the country into a catastrophe," Jayagoda added.
He proceeded to say that the way the country was being governed, was so undemocratic and added there were ample pre-signs to say that the upcoming parliamentary elections would be a violent one.
Meanwhile, he said they would tomorrow organize rallies to mark November 29 'Il Maha Viru Day' to commemorate fallen members of the party during the 1988/89 uprising.
"The rallies would commence from three separate venues and the main speech will be delivered by FSP General Secretary Senadeera Gunathilaka at Gampaha Sanasa building" he said.
(Source: Daily Mirror – By Sheain Fernandopulle)