Gaddafi's sons captured as Tripoli falls
Posted by Editor on August 22, 2011 - 9:43 am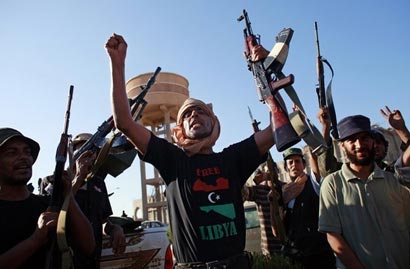 Three of Colonel Gaddafi's sons were reported to be in the hands of Libyan rebels, last night, as rumours spread that the tyrant himself had fled the capital.
There were reports that Gaddafi had fled to a bunker outside Tripoli, while the British representative of the rebels told Sky News he believed the dictator may even have gone to Algeria.
Independent Libyan television claimed the tyrant had 'run away like a coward', while the news channel Al-Jazeera reported the African Union may be offering Gaddafi exile in Angola or Zimbabwe, the Mail Online reported.
Thousands of people poured into the streets of the capital Tripoli late last night, firing guns in the air and cheering a column of rebel pick-up trucks which converged on the city, apparently meeting no resistance from regime forces, the Associated Press reported.
Courtesy: DM Online
Latest Headlines in Sri Lanka