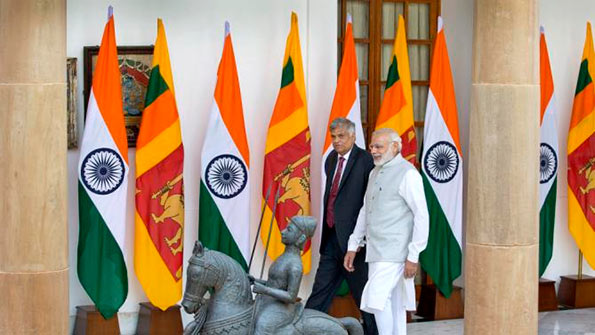 NEW DELHI: India on Wednesday took up the issue of constructing a sea-bridge and an underwater tunnel for both road and rail transport that would connect Rameswaram in Tamil Nadu with Sri Lanka through the Palk Strait, with Colombo on Tuesday.
Shipping ministry sources claimed that the multilateral financing agency, Asian Development Bank (ADB) has shown interest to carry out the socio-economic feasibility study for this 23 km project linking Dhanushkodi and Sri Lankan boundary. They added the project requiring an estimated investment of $ 5.19 billion was discussed between shipping minister Nitin Gadkari and the visiting Sri Lankan Prime Minister Ranil Wickremesinghe.
The proposed sea-bridge would help in expanding the trans-SAARC road and transport network. "We want Sri Lanka to join the BBIN motor vehicle agreement for seamless movement of both passenger and cargo vehicles in the SAARC region," said an official.
He added that a secretary-level meeting between the two nations along with the representatives of ADB can be held in Sri Lanka to discuss the project.
As per the proposal, the rail-road project would be built in a manner that would allow unhindered movement of ships through the Pamban channel. There have been similar such underwater tunnels in other parts of the world and this project would not damage the Ram Sethu, officials said.
There is a missing link of narrow corridor of about 22 km which is presently serviced through makeshift ferry vessels. Once this project is completed, trans-Asia road and transport network could be extended to Sri Lanka. Sources said pillars can be erected on the sea bed where the water depth is less so that a bridge can be built. In case of stretches where the water is deep a submersible tunnel would be built.
(Times of India)