Gammanpila wants Indemnity Act to protect soldiers from war crimes allegations
Posted by Editor on September 16, 2015 - 8:21 am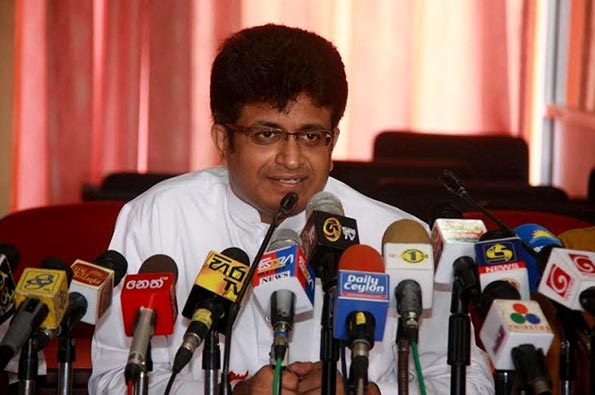 An Act seeking indemnity will be presented in Parliament to protect soldiers if allegations are raised at the United Nations against the soldiers indicating that war crimes and crimes against humanity were committed, Pivithuru Hela Urumaya (PHU) General Secretary MP Udaya Gammanpila said.
Addressing the media at the party headquarters yesterday, he said it was the soldiers who brought sustainable peace to the country and they should be protected from international threats.
An Act of Indemnity was passed in Sri Lanka on three occasions to retain the peace and harmony. Soldiers need not fear about those allegations imposed, the Act of Indemnity will protect them from being subjected to legal penalties, he added.
Foreign Minister Mangala Samaraweera called for new a Constitution to help resolve the ethnic conflict while Prime Minister Ranil Wickremesinghe earlier expressed that the 13th Amendment will be a solution to end the ethnic conflict involving the Tamil minority. They have produced two contrary opinions, Gammanpila said.
Minister Samaraweera should make a special statement in Parliament and the people on the issue faced by Tamils in Sri Lanka which cannot be solved under the present constitution, Gammanpila said.
Sri Lanka has not signed any agreements on devolution of power. The minister's statement makes the point that power will be devolved by introducing a new constitution. He has taken a domestic issue to the international stage, he said.
Gammanpila said the CEPA agreement is signed between two countries which has equal living standards to exchange the skills and talents.
The economic standards of Sri Lanka and India are different. Ministers Harsha de Silva and Malik Samarawickrama said two different things with regard to the CEPA agreement. If the agreement is signed Sri Lankans will lose many job opportunities, he added.
Responding to a question by a journalist about the status of their alliance, Gammanpila said a decision will be taken after September 22. The decision depends on the number of SLFP parliamentarians who have decided to remain with the party in the opposition, he added.
Gammanpila said discussions are on to form a new coalition party as well.
(Daily News)
Latest Headlines in Sri Lanka