Gampaha voters protest Paba's 'politriks'
Posted by Editor on September 20, 2010 - 4:39 pm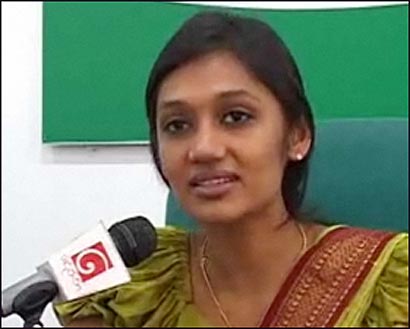 Voters from the Gampaha District held a protest against Paba or Upeksha Swarnamali's recent crossover to the government side in the township of Kirillawela in Kadawatha a short while ago.
The protestors claimed that Ms. Swarnamali had gone to Parliament through the votes of the United National Party (UNP) supporters and had betrayed them by joining the government for monetary considerations.
The protest was organized by Western Provincial Councillor U. George Perera and Opposition supporters in the area.
Recent media reports suggested that Ms. Swarnamali's husband had forced her to support the government's 13th Amendments to the Constitution and that another government member had offered a large amount of money for the crossover.
She attended the UNP protest at the Parliamentary complex dressed in black but later voted for the amendments in Parliament along with another few UNP members.
Ada Derana
Latest Headlines in Sri Lanka