Gandhi statue vandalism: India conveys concern to Sri Lanka
Posted by Editor on April 9, 2012 - 7:36 am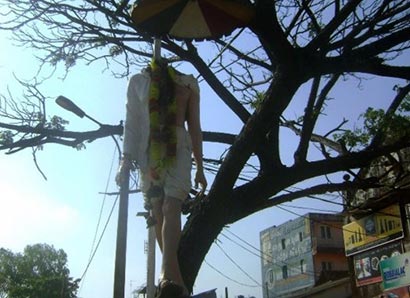 India has taken up with Sri Lanka the issue of vandalism of a statue of Mahatma Gandhi in the eastern town of Batticaloa and offered assistance in rebuilding it.
The statue of Mahatma Gandhi along with those of Lord Baden Powell and two Tamil scholars had been found damaged on Thursday, prompting the Sri Lankan government to order an investigation.
Diplomatic sources said the Indian High Commission here has protested and expressed concern over the act of vandalism by an unknown group on Thursday.
India also offered assistance to rebuild the Gandhi statue, they said.
Sri Lanka's External Affairs Ministry has said that police had been directed to carry out a probe to determine the motive and to nab the culprits.
"The Inspector General of Police has been instructed to carry out an immediate and thorough investigation into these incidents to identify motives and culprits behind these acts of vandalism," it said.
According to locals, the statue had been erected in 1960. – IANS
Latest Headlines in Sri Lanka