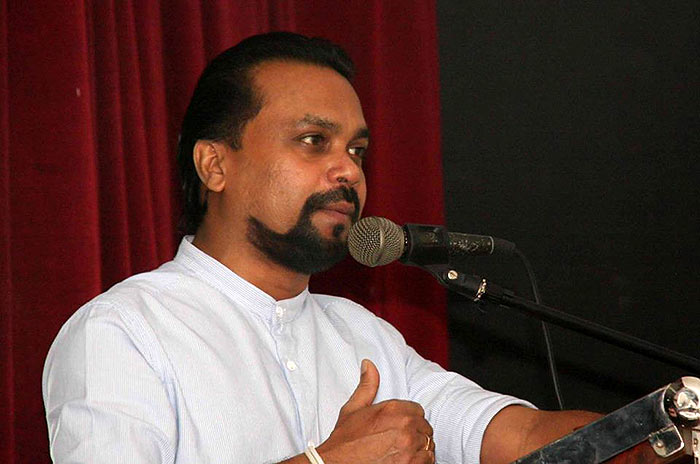 He was speaking  at a public meeting in Pliyandala. MP Wimal Weerawansa added:
"If the bill was to be defeated, for what reason was it tabled in Parliament ?  What is the expenditure involved per day to debate this? The debate went on until 6.30 p.m.
The Minister who brought the Bill also said that it is excellent. Then, were the votes cast against the Bill because of that?
"Our country cannot progress while such stupid things are happening. That is why we challenge President Sirsena to, if the Bill, tabled by the Minister of Provincial Councils and Local Government, according to your own needs, is being defeated by the PM, the Cabinet and Government MPs, who represent your executive powers, then please use your dusty sword against them. If the President has no backbone, it is time for him to say goodbye to politics.
"Therefore this cannot be condoned any more.  Our children must have rights in the country. Those abroad must also have their rights. The entire North is scientifically destroyed. Wigneswaran says, no to Sinhala and yes to Tamil only. He says there is nothing called Nagadeepa.
"The Sinhala regiment has a special weapon. That is the ammunition and steel balls. There is no sign of holding PC elections.
"Sinhala soldiers have a special weapon. There is gun powder and iron balls inside it. There is a special thread attached. It would explode once it is set on fire. When it explodes, soldiers die as a result of the grave injuries caused by those iron balls.
"The Provincial Council Elections are not going to be held. Sirisena and Wickremesinghe wouldn't even hold Presidential election if they could. Therefore, we cannot wait till the election is held.
"Take the example of South Korea. The masses thronged the Capital, Seoul and compelled the Prime Minister to resign. We should follow those people. We should also gather and compel this Government to leave.
"During the Hartal period of 1956, people pushed the Cabinet of Ministers to a ship that had anchored off shore. This time the Government will have to face a much bitter repercussion than that.
"If Sri Lanka had been geographically a part of India how can we have our own cultural identity.
"What are these people doing now? They are constructing a Hanuman bridge from Dhanushkodi to Mannar. They are also constructing a railroad from Trincomalee to South India. Palali airport will be given to India. Theb Kankesanthurai harbour will also be given to India.
The Trincomalee harbour too will be given to India, Singapore and Japan. The Eastern terminal of the Colombo harbour and the Galle harbour will be given to India.
"Through the ETCA, India is able to creep into the Sri Lankan service economy. After 10-15 years, once all this mishaps occur, our plight will be so sorry.
"In future, the nations will vie for power and it is crucially important to possess the power over this ocean zone, for those nations to claim their supremacy. Hence, it is equally important who Sri Lanka supports and obeys.
"This country has been forced to be a victim of this 'vying for power' by this Government. The Sirisena- Wickremesinghe duo is engaged in fulfilling the needs of international invaders. If we become a prey to this, Sri Lanka is sure to become another Libya or Syria.
"Do not be taken aback if this government produce an ISIS terrorists within the country to achieve their objective.
I openly challenged Sajith Premadasa to a Television debate. No response from him so far. If he would attend such a debate with me, I would directly question him if his name is included in the list of those that have been alleged to have obtained cheques from Arjun Aloysius.
I would also ask who spent money for Sajith Premadasa son's wedding. Is it Arjun Aloysius or someone else? I would ask him who bore the expenses of that wedding?
"There is no point in being idle at home and cursing. And, also going to the market and cursing the Government after hearing the high price of goods. They should also stop cursing those who voted-in this Government.
What should be done is to bring the masses to the streets to make the Government feel that people are not happy with their rule at all and to defeat it at the next election.
"That will be the day that we would make the Sirisena- Ranil duo understand the message that the masses gave them by defeating them at the Local Government election. Our message will be very strong.
"I want to request from all of you to throng to Colombo on 5, September evening.
This battle that we fight against the Government has a national impact. We fight this battle against making Sri Lanka a sub- colony of India. This is a battle that we fight to save the motherland from the invasive foreign powers. You should take the flag and be a spearhead in that battle. "Be an enthusiastic fighter and step into the battle field to fight!"
(Source: Ceylon Today)