Germany offers help for Sri Lankan probe of war atrocities
Posted by Editor on September 23, 2015 - 8:14 am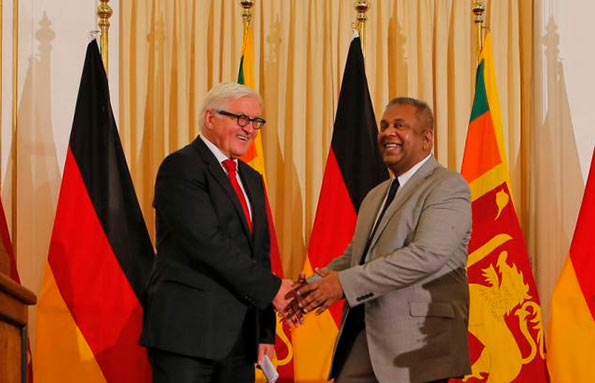 Germany is ready to help Sri Lanka investigate alleged atrocities during its civil war, Foreign Minister Frank-Walter Steinmeier said Tuesday.
Steinmeier made the announcement after talks with his Sri Lankan counterpart, Mangala Samaraweera, in Colombo.
Last week, the United Nations human rights chief recommended that Sri Lanka set up a special hybrid court that would include foreign judges and investigators to examine the alleged atrocities, saying Sri Lanka's own courts are not yet ready to carry out a fair judicial process.
Samaraweera said then that the country wants to conduct its own investigation but would accept some outside technical support. He said it would take about 18 months to create the needed institutions, including a truth and reconciliation commission.
Steinmeier said he and Samaraweera discussed the issue in their talks Tuesday.
He said he believes "there will have to be international assistance," but the extent should be deliberated at the U.N. Human Rights Council.
Samaraweera said Sri Lanka has "indicated to the U.N. and other international partners that we always welcome international assistance."
He said the government will first hold consultations with political parties and civil society.
Sri Lanka's civil war ended in 2009 with the government's defeat of Tamil Tiger rebels who had sought to create a separate state for ethnic minority Tamils.
A U.N. report issued last Thursday said the patterns of violations strongly indicated war crimes and crimes of humanity were likely committed by both government soldiers and the Tamil Tigers. It listed indiscriminate shelling, extrajudicial killings, enforced disappearances, torture, sexual violence and child recruitment.
Meanwhile, former President Mahinda Rajapaksa, who led the military campaign against the rebels, urged his successor to reject the U.N. report.
He said any allegations should be investigated through the existing legal system instead of setting up special courts.
(AP)
Latest Headlines in Sri Lanka