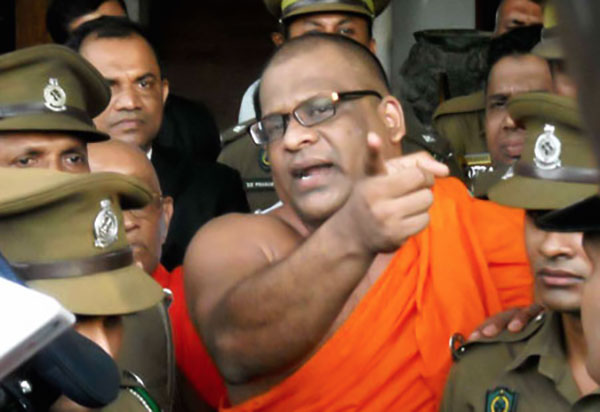 General Secretary of the militant monk movement Bodu Bala Sena (BBS) Galagoda Aththe Gnanasara Thera is likely to be arrested today. Over the past two weeks hate crimes perpetrated against minorities escalated to 19 incidents when a petrol bomb was thrown at a mosque in Kurunegala, causing severe damage to property.
Last week Gnanasara Thera stormed in to the Ministry of National Co-existence Dialogue and Official Languages, threatened the Minister in charge Mano Ganesan and claimed that Sri Lanka belonged to the Sinhalese alone. Following this encounter Ganesan lodged a complaint with the Police.
During the early hours on Sunday, a tense situation arose when BBS claimed the Police had blocked access to a predominant Muslim area and attempted to arrest Gnanasara Thera. He got into a heated exchange with the Police and spoke of the Prime Minister with profanity.
When Ceylon Today spoke to the Cabinet co-spokesman, Minister Gayantha Karunathilaka, he noted that the matter should be taken up with the Minister of Law and Order Sagala Ratnayake. Ratnayake was not available for comment when Ceylon Today tried to reach him.
Speaking to Ceylon Today UNP parliamentarian Mujibur Rahman noted that the Prime Minister has been briefed about the escalating hate crimes and had promised to take necessary action. Rahman will also take up the matter in Parliament tomorrow via an adjournment motion.
This adjournment motion on reconciliation between ethnicities in Sri Lanka indicates as follows,
"It is no secret that the contribution of all communities was vital to bring the incumbent government to power. Thus we have to prioritize establishing reconciliation and harmony between communities, which was fractured during the time of war. However, certain extremist elements motivated with a political agenda are now sabotaging the process of reconciliation, and creating discord between communities once more."
In the adjournment motion Rahman noted that necessary steps should be taken to eliminate these extremist elements which are being a barrier to the successful implementation of reconciliation.
(Source: Ceylon Today – BY SHAAHIDAH RIZA)