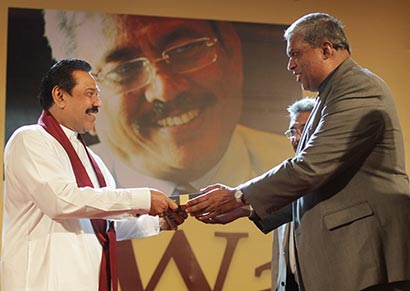 The book launching ceremony of 'Gota's War an introspective collection of events that led to the crushing of Tamil Tiger Terrorism in Sri Lanka documented by veteran journalist C.A. Chandraperuma was held this evening (14th May) at the Grand Ballroom of the Waters Edge in Battaramulla.
H.E the President and C-in-C Mahinda Rajapaksa graced the event as the Chief Guest, whilst Secretary Defence and Urban Development Gotabaya Rajapaksa was the Guest of Honour. The ceremony was organized by the General Ranjan Wijeratne Foundation.
The welcome note of the event was delivered by Mrs Barathi Wijerathne the Sri Lanka's Ambassador to Turkey. The Secretary to the President Mr Lalith Weeratunga delivering the introduction of the book stated that without H.E the President Mahinda Rajapaksa there would have been no decision to engage in war and without Secretary Defence Gotabaya Rajapaksa, there would have been no victory.
The first copies of the book were ceremonially handed over to H.E the President and Secretary Defence by the author Mr. C.A. Chandrapema.
Hon Minister Dr. Sarath Amunugama addressing the occasion stated that no military force in the world has undertaken this type of a dramatic humanitarian operation ever and achieved complete victory and the Secretary Defence was the architect of the victory. Further he said Mr Gotabaya Rajapaksa was a 'Soldiers' Soldier'. Also he stated that H.E the President provided dynamic leadership to achieve victory over LTTE terrorism.
The vote of thanks was delivered by the author Mr. C.A. Chandraperuma. The venerable clergy, First Lady Mrs Shiranthi Rajapaksa, Hon Ministers, Members of the Parliament, Mrs Ioma Rajapaksa, Foreign Dignitaries, Provincial Governors, Three Forces Commanders, IG of Police, Secretaries, senior military officers of all three forces and many distinguished guests were present at the event.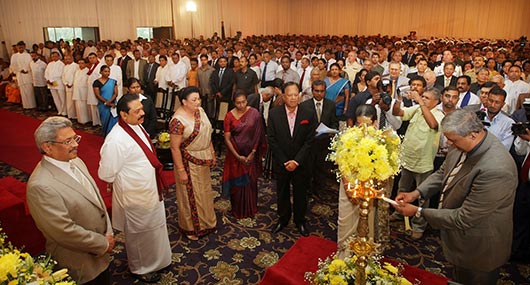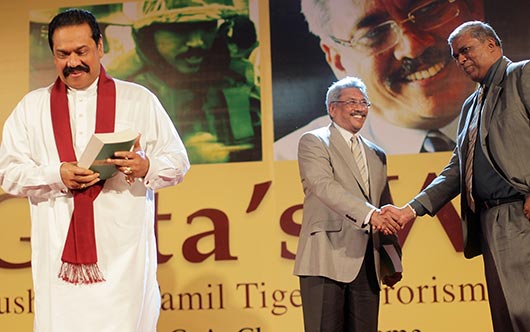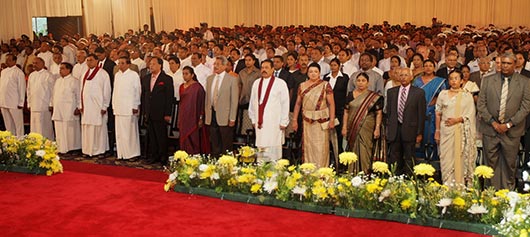 Source: M.O.D / Pix by Sudath Silva