Government in talks with Sri Lanka to find solution on fishermen issue – Sushma Swaraj
Posted by Editor on December 19, 2014 - 7:18 am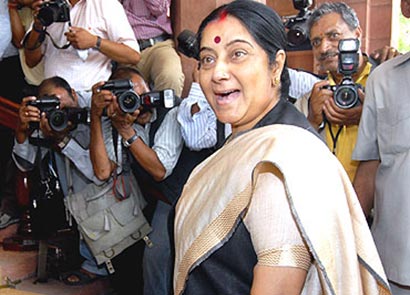 Government is steadfastly working in close cooperation with relevant stakeholders in finding a long-term solution to the Tamil fishermen issue, the Rajya Sabha was informed on Thursday.
In a written reply, External Affairs Minister Sushma Swaraj said India and Sri Lanka have discussed measures for expeditious release of bonafide fishermen and have set up a Joint Working Group (JWG) to resolve the issue.
"Government is steadfastly working, in close cooperation with the relevant stakeholders, in finding a long term solution to the Fishermen's issue," she said in her reply. She added that during the joint working group meeting it was agreed to enhance cooperation that would allow fishermen from both countries to pursue their fishing activity in a safe, secure and sustainable manner.
"Both sides also discussed measures for the expeditious release of bonafide fishermen," she said. The Minister added that the first meeting of the India-Sri Lanka Joint Committee on Fisheries related issues was held on August 29 in Delhi to further strengthen bilateral cooperation in the sector. "The two sides agreed to examine joint opportunities between respective scientific institutes in research, development and capacity building," she said, adding that the next round of this joint meeting will be held in Colombo.
(DNA India)
Latest Headlines in Sri Lanka