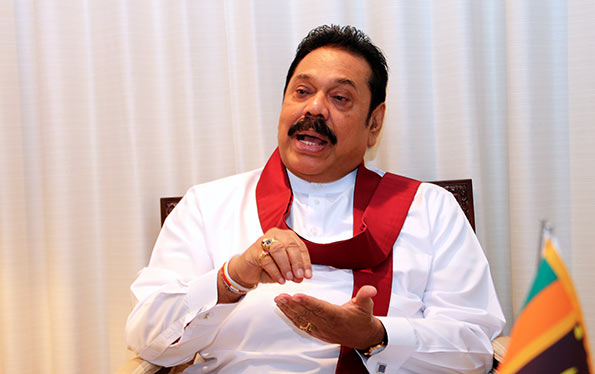 Former President Mahinda Rajapaksa says that recent fuel price hike is not reasonable. He says in 2008, petrol was sold at Rs. 120 when Sri Lanka was buying crude oil at the much higher rate of USD 97 a barrel.
Media Release:
Fleecing the public through fuel price manipulation
Fuel prices have been increased yet again within a period of about eight weeks – a situation we have never experienced earlier. Now the price of petrol is Rs. 145 and diesel Rs. 118 while today's price of crude oil in the world market is around USD 74 per barrel. In 2008, when Sri Lanka was buying crude oil at the much higher rate of USD 97 a barrel, petrol was sold at Rs. 120 and diesel at Rs 70. During the nine years in which we ruled the country, world crude oil prices were always high. According to the Central Bank reports, when I first assumed office as President back in November 2005, crude oil was imported to Sri Lanka at around USD 73 per barrel. Thereafter the price of crude oil increased steadily and during the last four years of my government, in 2011, 2012, 2013 and 2014, the average price of crude oil imports was over USD 109 per barrel. Hence the present crude oil price of USD 78 is very low compared to the prices that prevailed when we were in power.
The government should explain to the public why the retail price of fuel is disproportionately high today. The latest price increase is being justified in terms of a price formula which nobody has seen. It is quite clear that this government is aiming to collect more tax revenue from fuel by increasing and reducing fuel prices frequently so that at the end of the year, more revenue would have been collected from consumers. This kind of price manipulation is a standard practice in the large scale retail industry. The public should also take note of the devious manner in which the government implemented the fuel price increase. The Indian Oil Company was first allowed to increase their prices while the Ceylon Petroleum Corporation held back. After a few days when the people had reconciled themselves to a fuel price increase, the government increased the prices at the CPC stations as well. They sought to diffuse public outrage by such means. Such practices are all part of a government strategy to fleece the public through the manipulation of fuel prices.
Mahinda Rajapaksa
Former President of Sri Lanka