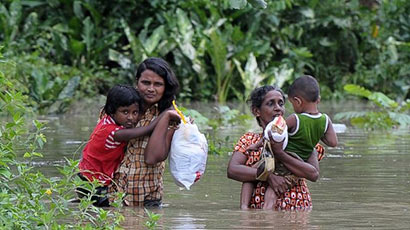 Heavy rains, floods, landslides and earth slips in Sri Lanka have affected 1,109,606 people belonging 308,770 families in 22 districts up to 9.00am today (29), the Disaster Management Centre said.
The President has appealed to all politicians in the affected districts to give priority in providing relief measures to the people, leaving aside election propaganda. The government has allocated 500 million rupees to the Disaster Management Ministry to provide relief to the affected people.
According to the DMC, 30 deaths, 20 injured and 6 missing persons have been reported so far from Southern, Western, Sabaragamuwa, Uva, North, North Central, Wayamba and Eastern Provinces, due to the inclement weather.
It has been reported that 4,742 houses are fully destroyed while 15,237 houses are partially damaged.
Currently, 116,190 people belonging to 33,346 families are living in 636 camps..They are being provided with all essential facilities including cooked meals through relevant District Secretaries.
(Government News Portal)