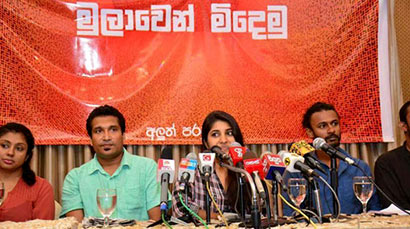 A group of artistes who were participating in a programme to muster support for Presidential Candidate of the New Democratic Front Maithripala Sirisena, have been attacked in Kumbukate, Kurunegala.
The "Aluth Parapura" (New Generation) organization, which was formed ahead of the presidential polls under the objective of defeating the "dictatorial madness" and raising a voice for the freedom of human society, consists of young artists such as Samanmali Fonseka, Kasun Kalhara, Indrachapa Liyanage, Jagath Manuwarna, Ama Wijesekara and Kaushalya Kumarasinghe.
The organisation known as New Generation Artistes said that several persons were injured in the attack.
Samanali Fonseka and Indrachapa Liyanage are among the injured.