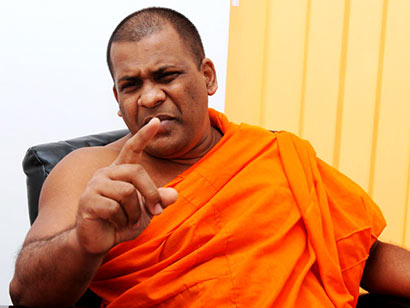 Ven. Galaboda Aththe Gnanasara Thera, the General Secretary of the Bodu Bala Sena (BBS) organization has accused former Justice Minister and Sri Lanka Muslin Congress (SLMC) Leader Rauff Hakeem of being a "political prostitute" who stood up against the government at all the Presidential elections.
Gnanasara Thera said that Rauff Hakeem had defected to the opposition at the Presidential elections in 2005 and 2010, however, later joined the government once again. "This time he is halfway through, and repeated the same move," he added.
The observation was made at a press conference held in Colombo, this morning.
Gnanasara Thera also charged that Rauff Hakeem has signed a secret and harmful agreement with former President Chandrika Kumaratunga. "The BBS urges the relevant parties to disclose the terms of this agreement."
The General Secretary also accused Hakeem of being behind an alleged conspiracy by leaking evidences to the international community against the island nation, with support of the Tamil National Alliance (TNA).
The government had come under heavy criticism in past few weeks over several issues by former Minister Patali Champika Ranawaka. But he kept a blind eye on these incidents, when he was a cabinet Minister, Gnanasara Thera added.
The SLMC quitted the government and announced it will support Common Candidate Maithripala Sirisena, yesterday (28). On 24 December, the BBS announced it will provide direct and unconditional support to President Mahinda Rajapaksa at the forthcoming Presidential election.
(Ada Derana)