UNP says bringing Bollywood actor for campaigning a disgrace
Posted by Editor on December 30, 2014 - 8:03 am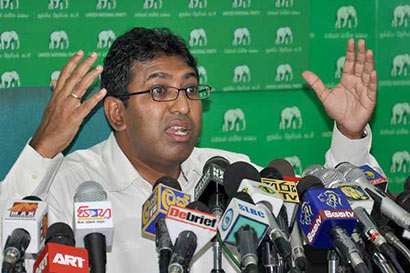 Bringing in Bollywood actor Salman Khan to campaign for President Mahinda Rajapaksa is a disgrace to the Sri Lankans, says UNP MP Dr. Harsha de Silva.
MP Silva said: "How can one go that low. As a Sri Lankan I am ashamed to see people are being fooled and treated like a bunch of idiots."
The president should have asked Sri Lankan artistes like Amaradeva, Malini Fonseka to help him with electioneering without disgracing Sri Lanka as a nation.
Khan was accompanied by former Miss Sri Lanka turned Bollywood actress, Jacqueline Fernandez. They are said to be close friends of Hambantota District Parliamentarian Namal Rajapaksa.
Meanwhile, Common Candidate's Media Unit yesterday said that a number of artistes, including Samanali Fonseka and Indrachapa Liyanage had been attacked yesterday in Kurunegala.
They were attacked by a mob numbering about 150 when they spoke about the irregularities of the government following a musical show at Kumukgette, Kurunegala.
(The Island)
Latest Headlines in Sri Lanka