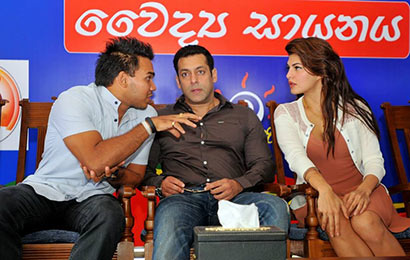 Refuting allegations that Indian actor Salman Khan was paid to visit the country with a presidential election looming, Tharunyata Hetak Chairman and MP Namal Rajapaksa said no payments were made and that the actor was in the country in connection with his charities.
"This is not the first time Salman has come to this country, and each time he came, he has provided charity for the needy in this country. He came in 2011 as well and then we conducted a health project in Jaffna for the underprivileged," he said.
Mr. Rajapaksa said there were no financial transactions involved as alleged by certain quarters.
"We are not in the habit of paying people to come to this country or to work with us. This was a goodwill gesture and I can categorically state that there was no monetary transaction or otherwise involved in bringing Salman to the country" he claimed.
Mr. Rajapaksa said the Bollywood heartthrob would be visiting flood affected areas around the country to help the relief efforts.
(Daily Mirror)