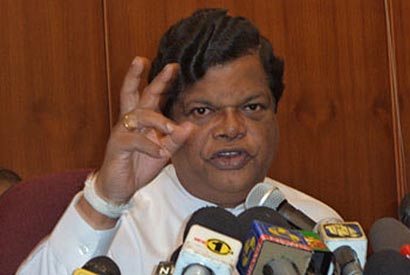 UPFA Parliamentarian Bandula Gunawardena said the government could bring down the cost of living in the country by recovering hidden assets allegedly owned by the Rajapaksa family.
"Foreign Affairs Minister Mangala Samaraweera has stated that the foreign assets belonging to the Rajapaksa family stands at USD 18 billion. That means foreign assets owned by the Rajapaksa family easily surpasses total foreign reserves of the country's economy. So, they should take measures to unearth these assets. That will resolve most of the economic issues faced by Sri Lanka including rising cost of living," Gunawardena said.
"What Samarweera raised was a sinister allegation. I hope the former President will take legal action against the Foreign Affairs Ministry," Gunawardena said speaking at a press conference in Colombo yesterday. Meanwhile, speaking at the same press briefing, UPFA Parliamentarian
Professor G.L. Peiris said the opposition would present a no-confidence motion against Central Bank Governor Arjuna Mahendran in Parliament.
"Over 88 MPs in the House signed the no-confidence motion against the Central Bank Governor. Nine UPFA Parliamentarians who hold positions in the government including three cabinet ministers, three state ministers and three deputy ministers have signed the no-confidence motion," the Parliamentarian said.
(Daily News)