Govt. ready to act on RW's call for NGO probe
Posted by Editor on December 23, 2011 - 8:29 am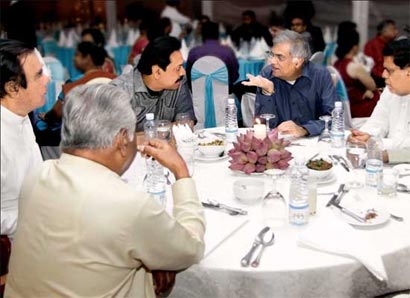 In the wake of UNP leader Ranil Wickremesinghe's unprecedented claim that a German NGO had thrown its financial weight behind those seeking to oust him from the party leadership, the government is now contemplating a comprehensive inquiry into NGO activity.
Although the government initiated an inquiry early this year on three recipients of over Rs. 618 million during a three-year period since 2008, it wasn't pursued. However, the German NGO targeted by Wickremesinghe is not among the three NGOs which attracted the attention of the government, sources said.
The government expects the UNP leader to help identify funding sources and the recipients of foreign funds. The official UNP website quoted Wickremesinghe as having said that he wanted the parliament to investigate the German NGO.
Although Wickremesinghe refrained from targeting any other country, political sources alleged that the rebels had received the backing of at least two other countries, a charge strongly denied by the Reformists.
The rebels alleged that Wickremesinghe was bending backwards to please President Rajapaksa for his political survival. Commenting on President Rajapaksa's speech in parliament at the end of the Budget 2012 debate, on Wednesday, rebel sources said the President went out of his way to safeguard Wickremesinghe's interests. Could there be anything as silly as President Rajapaksa advising Reformists to rally around Wickremesinghe, they said.
Responding to a query by The Island, sources said that those, who had been invited for post-Budget 2012 dinner at Speaker Chamal Rajapaksa's official residence on Wednesday, had discussed external intervention on the domestic political scene.
Highly placed government sources alleged that those supportive of the LTTE's cause had campaigned against the then Prime Minister Mahinda Rajapaksa's bid at the Nov. 2005 presidential election. Sources recalled how those NGOs had undermined Premier Rajapaksa by calling him a warmonger. Interestingly Wickremesinghe's recent tirade had been directed at some of those who stood by him during his two abortive bids at the presidency, sources said.
UNP sources alleged that sections of both print and electronic media, particularly some of those near and dear to Wickremesinghe, too, had been involved in the conspiracy.
Sources ruled out the possibility of Wickremesinghe reaching an agreement with the rebels, particularly in the backdrop of an alleged foreign hand in the move to oust him.
Wickremesinghe's attack on the NGOs and a section of the media, which he categorized as part of a conspiracy against him had unsettled some of those in his camp, sources said. The possibility of irate Wickremesinghe exposing NGO operations to the government had caused anxiety among foreign missions and NGOs, sources said.
Courtesy: The Island
Latest Headlines in Sri Lanka