BOOK TO BE LAUNCHED ON JANUARY 23, 2012 AT TEMPLE TREES
Posted by Editor on December 23, 2011 - 8:34 am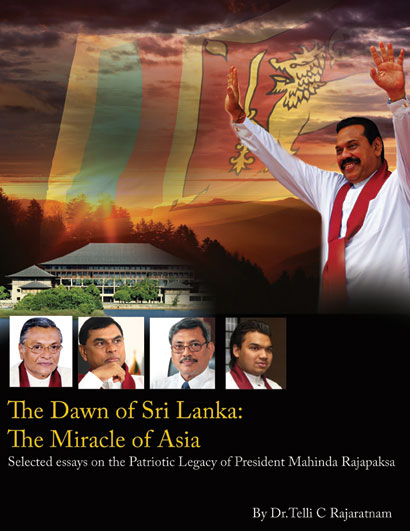 The Book titled "The Dawn of Sri Lanka, The Miracle of Asia –Selected Essays on the Patriotic Legacy of President Mahinda Rajapaksa" would be launched on January 23, 2012 at the Temple Trees at 4.30 p.m.
The Chief Guest would be His Excellency President Mahinda Rajapaksa. The Guests of Honour will Hon.Chamal Rajapaksa, Hon.Basil Rajapaksa, Dr.Gotabhaya Rajapaksa and Hon.Namal Rajapaksa. The News line SRILANKAN PATRIOT would be ceremonially launched after the launch of the book. The Diplomatic community, Members of Parliament, Religious Dignitaries would be amongst the guests. The author Dr.Telli C Rajaratnam would accompany his mentor and special Guests Mr.Ravimohan Surendranath Kumarakulasinghe Tissanayagam and Mrs. Ruki Ramanathan Tissanayagam, a well known icon in the development of the Arts, Music and Patriotism.
The Book is an updated collection of patriotic articles of President Mahinda Rajapaksa, Speaker Chamal Rajapaksa, Minister Basil Rajapaksa, Defence Secretary Dr.Gotabhaya Rajapaksa and Legislator and Lawyer Namal Rajapaksa.published in the newspapers, newslines in Sri Lanka and overseas. Dr. Telli C Rajaratnam is an indomitable defender of President Mahinda Rajapaksa.
The Author states that this book would with one sweep dismiss the allegations made by certain vested interests and convince the world of the great leadership of a great Leader President Mahinda Rajapaksa. He is the only leader who reached the hearts of the minorities and liberated the minorities and gave equal rights. He is the only leader who addressed the UN in Tamil. He is the only leader who addressed the Tamil people in Tamil on his visits to the North and the East. He is the only Leader who gives equal prominence to all religions and religious dignitaries.
Sri Lankan Patriot Awards will be awarded to 14 distinguished Sri Lankans.
Latest Headlines in Sri Lanka