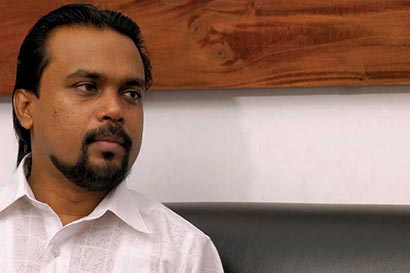 "However much we talk of economic growth, not enough money is going into the hands of the people. Decision making on development has become limited to just two or three people."
In 2005, Wimal Weerawansa's platform oratory was one of the highlights of Mahinda Rajapaksa's presidential election campaign.  In 2007, even as a JVP parliamentarian, he played a pivotal role in foiling the attempt made by the UNP to defeat the UPFA at the vote on the budget. After joining the government, Weerawansa was always one of the key defenders of government policy. Lately however, his has become a discordant voice in the government openly expressing his discontent, boycotting cabinet meetings and refusing to vote with the government in parliament. The Island spoke with minister Weerawansa about the 12 point programme that he has presented to the government in the form of an ultimatum.
Q. In your 12 point programme, there are six political demands while the rest are economic. The six political demands are 1) that certain (unspecified) constitutional reforms be done. 2) that Sri Lanka should not cooperate with an international war crimes inquiry, 3) that no internal inquiries are held due to pressure from overseas, 4) that no discussions are held with foreign countries about the implementation of the 13th Amendment, 5) that action should be taken against political parties promoting separatism, and 6) that foreign funded religious extremist organisations be banned. Many in the government would readily agree to all these demands. The president has already told Modi that he is not prepared to discuss conceding police powers to the provinces. With regard to some of these matters, there obviously is agreement but there is a lag in implementation.
A. We put forward the 12 point programme to highlight outstanding issues so that we do not go to the next presidential elections with these problems unaddressed. As of now a section of the Sinhala voters are dissatisfied. I went to Moneragala in four hours thanks to the carpeted road. But when I got there people told me that the irrigation tank destroyed by the British in the wake of the 1818 rebellion has not yet been repaired. Repairing a tank makes an immediate contribution to the village economy but such things are not being done. We take loans from overseas and state banks as well, to carpet the roads. I am not against such development but there has to be a balance. However much we talk of economic growth, not enough money is going into the hands of the people. Decision making on development has become limited to just two or three people like P. B. Jayasundara and Ajith Nivard Cabraal.
Q. If we look at the six economic points in the list you presented to the government, one of them is entering into a free trade agreement with China. I think the government is very anxious to finalise that. The next one is about stamping out the drug menace. There, too, the government is obviously taking action with sensational detections being made one after the other. Another demand is that the assets declarations of ministers and top officials be made accessible to the public in order to combat corruption. As with several of the political points, there is awareness in the government on the need to do this even though it has not yet been implemented. The real core of your programme appear to be points 7, 8 and 9, which are about an import substitution policy for commodities like milk powder and sugar, preventing Mahinda Chintanaya from being submerged by neo-liberalism, and discouraging the spread of gambling. If we take the point relating to milk and sugar production, in 2013, local sugar production had gone up by no less than 48%. In the case of milk production, the growth in 2013 was only 7%, but the government has a target of self-sufficiency by 2016.  How they are going to achieve that is a different matter, but at least they have stated goals and they seem to be trying.
A. I am not saying that the government has done nothing. But the people expect more than what has been achieved. The government does have the intention of helping micro enterprises, but there is no implementation.  The furniture makers in Moratuwa are in the doldrums because of furniture imports.  There is no organised attempt to impart new technology and design know how to this sector to enable them to compete with imported goods.  We are trying to highlight the importance of what is not happening.
Q. If we go on to the question of casinos, the apparel industry showed this country the limits of industrialisation. We have no energy sources or raw material. Everything has to be imported. So it is only by developing service industries like tourism that this country can go forward. Casinos are an essential part of the entertainment and leisure industry. Besides the proposed Packer and John Keels casinos are not targeting Sri Lankan gamblers. The miniscule local gambling market is not sufficient to sustain such projects. They are targeting tourists from South and East Asia. Besides, casinos have existed in this country since the 1980s. Any comment?
A. We are not saying that the existing casinos should be closed. We are not opposing any existing casino being taken into the (Packer and John Keels) mixed development projects either. The casinos that exist pay tax. But when an existing casino is taken into one of the proposed mixed development projects, it suddenly becomes eligible for tax concessions according to the gazette notification that was issued. That is what we are opposed to. There is no reason for an existing casino to get tax concessions just because it changes its location. If casinos can attract more foreigners, we have nothing against it. But we also sound a word of caution that depending on tourism is fraught with danger because the slightest turbulence can upset things. Furthermore in tourism, most payments are made overseas and only a very little really comes into this country.
Q. By saying that Mahinda Chintanaya is being overshadowed by the Regaining Sri Lanka agenda you obviously mean that the government is veering towards neo-liberalism. As UNP MP Dr Harsha de Silva says a cornerstone of the neo liberal economic agenda is trying to make the budget balance. This government's financial management is surprisingly robust. Government Expenditure as a percentage of the GDP has fallen from 23.8% in 2005 to 19.2% in 2013. Government debt as a percentage of GDP has fallen from 90.6% in 2005 to 78.3% in 2013. Debt service payments as a percentage of the GDP have gone down from 14.1% in 2005 to 13.4% in 2013. Dr de Silva himself pointed out to me that even though tax revenue as a percentage of the GDP of has been declining year by year, and now stands at just 11.6% (the lowest in post independence history) the government has still been able to reduce the budget deficit from 6.5% of the GDP.  In 2012, to 5.8% in 2013, and hopes to reduce it further to 5.2% this year. This kind of financial discipline shows that this government is not thinking of the short term but ten to fifteen years ahead.
A. Just read the 2013 Annual Report of the Finance Ministry. For the first time, the Auditor General has given a qualified report on the finance ministry and five issues have been highlighted among them that money that should be kept in one account was being kept in different account, and that there was unaccounted for money in yet another account. People are talking about the growth rate. If you borrow huge amounts of money and dump it in the economy naturally there will be growth. Even though some say that our growth rate is second only to that of China, there is a huge difference in the way China obtains its growth and we obtain ours. Even though it is said that the national debt as a percentage of the GDP is declining, a large proportion of government revenue goes on interest payments on loans. We now have to take new loans to repay previous loans.
Q. Your argument that is that while improving the road infrastructure may be useful to the people, more personal needs are not being provided for. Do you feel that this government is not giving enough emphasis to subjects like housing which will have a direct impact on village life?
A. I put together a scheme with five state banks to provide low-interest loans for housing. Last year when I presented this for cabinet approval, the finance ministry objected on the grounds that the state banks could no longer shoulder the burden of helping out with state expenditure.  But after my cabinet paper was rejected, there were six cabinet papers approved to build roads with loans from state banks to the tune of Rs. 100 to 300 million each. At present, there is no low-interest hosing loan scheme for ordinary village folk.  If the government provides low interest housing loans say to the tune of about Rs. 5 billion, village masons will get employment, building materials will be sold and quite apart from houses being built, money will also circulate in the villages. Such a process will not take place when roads are built.   In developing an economy, you can't just concentrate on the macro picture. You have to look at the microeconomic aspects too.
(Courtesy: The Island)