UN-led probe on Sri Lanka to begin this month
Posted by Editor on June 16, 2014 - 10:16 am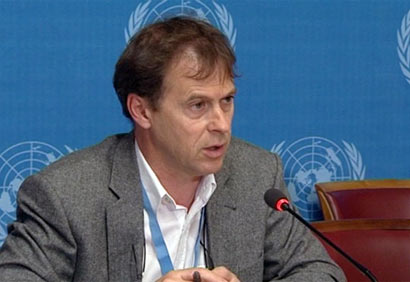 A UN-led investigation into the war in Sri Lanka will begin this month, a UN official said. The investigation is being launched in accordance with a resolution adopted by the UN Human Rights Council in Geneva in March this year despite strong objections raised by the Sri Lankan Government.
Rupert Colville, the spokesman at the UN Office at the High Commission for Human Rights (OHCHR), in an email to Xinhua said that the Investigation Team will be operational for a period of 10 months from mid-June 2014 to mid-April 2015 and the first meeting of the full team will be held in Geneva in July. "The High Commissioner for Human Rights will present an oral update to the September session of the Human Rights Council, and its final report will be presented to the council's March 2015 session. In accordance with usual practice, OHCHR will ensure that the Government of Sri Lanka has the opportunity to provide comments on both the oral and comprehensive report before they are issued," the OHCHR spokesman said.
The investigation will look at alleged human rights abuses said to have been committed during the war between the LTTE and the Sri Lankan military before the rebels were eventually defeated in May 2009.
The Sri Lankan government has refused to allow investigators from the UN led investigations panel to conduct the probe inside Sri Lanka.
However, the Sri Lankan Tamil diaspora said they will assist the investigations and give any evidence in their possession.
Suren Surendiran, the spokesman for the Global Tamil Forum (GTF) , an influential Tamil lobby group based in London said that GTF will continue to fully support any international independent process that has the potential to gain justice for the Tamil people.
The Diaspora claims that thousands of Tamil civilians were killed during the final stages of the war by the military, an allegation the military denies. Visuvanathan Rudrakumaran, the head of the Transnational Government of Tamil Eelam (TGTE), a diaspora group based in the United States, said the TGTE will also assist in the investigation, Xinhua reports.
Latest Headlines in Sri Lanka