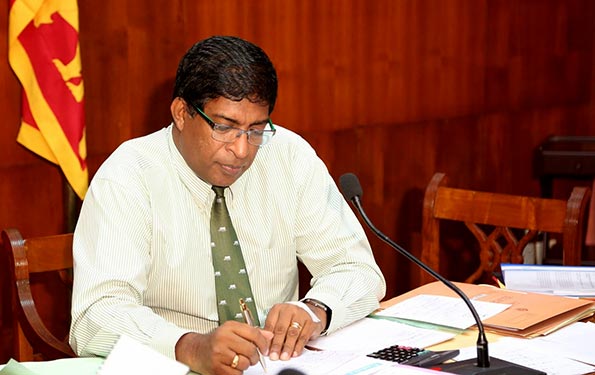 The government is to begin the disbursement of payment to the deposit holders of the defunct Golden Key Credit Card Company Ltd (GK) from Friday (July 24).
The cabinet of ministers gave its approval last week to the payment schedule proposed by Finance Minister Ravi Karunanayake in order to solve the long standing issues faced by the GK depositors.
Accordingly, the depositors who have had their account balance up to Rs two million will be paid within one month from July 24th, the finance ministry said.
"The General Treasury will provide Rs 544.3 million needed for this first tranche and the recovery of this fund will be made through the liquidation of the assets of the GK Ltd with the permission of the Supreme Court where a petition in this regard is being heard."
The Supreme Court had earlier given a ruling to pay 41 percent of the account balance to the depositors. Earlier in January this year, all depositors of the GK Ltd were given an interim payment up to Rs 300,000 irrespective of their account balance.
The govt has also decided to settle the dues of those who have deposits below Rs 10 million within the next two months and those of above Rs 10 million within one year. "Accordingly, a further sum of over Rs 7000 million is needed and Minister Karunanayake has proposed that funds for these payments could be recovered from liquidation of the assets of the Golden Key and the profits transferred from the CBSL," the ministry said in a statement.
The Government, in order to solve the long standing problems that existed in the non-banking financial institutions had stated that it would provide relief to depositors through the intervention of the Central Bank of Sri Lanka (CBSL) and the Finance Ministry.
The Finance minister along with Governor, CBSL held several discussions with the depositors' association to arrive at a possible option to resolve the issue, it said.
(Ada Derana)