Ground being prepared for int'l war crimes probe; Steven Ratner addresses Geneva-based diplomatic community
Posted by Editor on January 23, 2012 - 7:56 am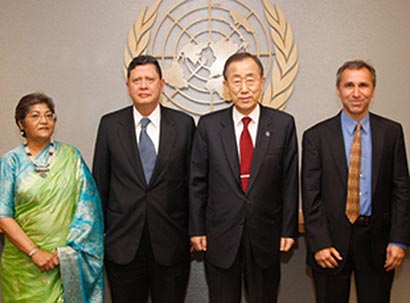 In the run-up to the Human Rights Council sessions in Geneva next month, those pushing for an international war crimes inquiry targeting Sri Lanka are stepping up pressure, with a key member of UNSG Ban Ki-moon's Panel of Experts (PoE) on accountability in Sri Lanka, Prof. Steven Ratner reiterating the demand for an international investigation.
Last week, US national Ratner in his address to a gathering of diplomats and representatives of several NGOs, including Amnesty International and Human Rights Watch in Geneva, emphasized the need to go ahead with an international inquiry, regardless of Sri Lanka's stiff resistance. The PoE comprised former Indonesian Attorney General Marzuki Darusman and South Africa's, Yasmin Sooka.
The meeting took place while a section of the international community was pressuring the Human Rights Council and the High Commissioner for Human Rights to set up an international inquiry.
External Ministry sources told The Island that the so-called round table discussion, 'Delivering on the commitment to accountability,' was nothing but an attempt to step up pressure on Sri Lanka ahead of the HRC sessions.
Among those invited in the discussion were US Ambassador to the HRC, Eileen Chamberlain Donahoe, Canadian Permanent Representative, Elissa Golberg, British Permanent Representative, Peter Gooderham, Norwegian Permanent Representative, Steffen Kongstad, French Permanent Representative, Jean-Baptiste Mattei, German Permanent Representative
Hanns H. Schumacher, Australian Permanent Representative, Peter Woolcott,EU Permanent Representative, Mariangela Zappia,Rory Mungroven (Office of the High Commissioner for Human Rights), Peter Splinter (Amnesty International), Pooja Patel (Forum Asia), Philippe Dam (Human Rights Watch), Alex Conte (International Commission of Jurists), Ms Beris Gwynne (World Vision International).
The relationship between accountability and reconciliation, too, had been discussed, which the organizers called an academic project on standard of proof in humanitarian and human rights fact-finding, with special focus on UN Inquiry Commissions.
Courtesy: The Island
Latest Headlines in Sri Lanka