Halal controversy: All sides should negotiate and come to a settlement – Keheliya
Posted by Editor on February 8, 2013 - 8:41 am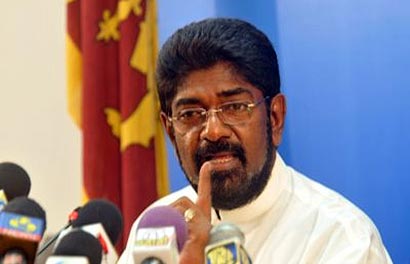 Every individual is entitled to religious freedom but this should be within the fundamental law of the country, Mass Media and Information Minister and Cabinet Spokesman Keheliya Rambukwella said.
Responding to a question by a journalist at the Cabinet press briefing at the ministry auditorium yesterday on the controversial issues on Halal certification, the minister said a discussion at large has been taking place on this topic, noting that the matter has come to a critical stage that could provoke ethnic and religious clashes.
He said the government is fully aware it should take a firm decision with regard to these matters.
The minister said every act must be pursued with extra caution under the prevailing situation.
"Everybody has their right to practice a religion of their choice . However, there is a discussion and an argument whether these rights have been exercised exceeding the limits. There is no simple solution for this matter," he said.
Rambukwella recalling the experiences of the past pointed to the potential for ethnic and religious tensions under the present context.
He said all who consider the seriousness of the situation would agree that the government must act to control websites that contribute to aggravating the issue.
The minister said on the other hand, the government could be questioned on media freedom when such an act is pursued.
He said the government is aware of the necessity to take firm decisions understanding the entire issue as a serious problem that could explode at any time. Rambukwella noted with regard to the Halal certification, all should negotiate and arrive at a consensus. (Courtesy: Daily News)
Latest Headlines in Sri Lanka