Minister paints wrong picture – Dharmadasa
Posted by Editor on February 8, 2013 - 12:20 pm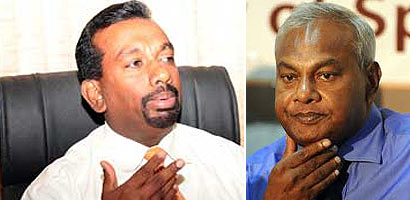 Multi-million-dollar cricket TV deal hots up as Aluthgamage orders to call for tenders
Sri Lanka Cricket (SLC) President Upali Dharmadasa rejected a media release issued by the Sports Ministry yesterday alleging that Dharmadasa had requested the Sports Minister Mahindananda Aluthgamage to renew the SLC TV contract with Ten Sports for another seven years without calling for tenders.
"This is a funny media release. It was not a request made by me, but by a special committee appointed by SLC to handle the new TV deal. This committee included SLC Secretary Nishantha Ranatunga, Vice President Asanga Seneviratne and Treasurer Nuski Mohamed. I was just one member of this committee. So why the Minister tried to implicate only me and make it look like I had a personal interest in the matter is a mischievous attempt" Dharmadasa told "Daily Mirror" yesterday.
"I am considering further action on this media release which is an attempt to tarnish my name. With the SLC elections getting nearer, I can imagine why such attempts at mud slinging are taking place. I won't take this insult lightly" said Dharmadasa.
Dharmadasa said that it was the SLC special committee which scrutinized the previous agreement SLC had signed with Ten Sports during the time of former Sports Minister Gamini Lokuge.
The then Sports Ministry Secretary S. Liyanagama who handled SLC affairs at that time as the one-man Competent Authority appointed by the Minister had signed the TV rights deal on behalf of the SLC with former SLC Chief Executive Duleep Mendis.
"According to clauses in that agreement, we have to negotiate with present right holders Ten Sports and ask them to give us an offer. Only if those negotiations fail can we call for tenders. Even if we call for tenders, there is a matching clause in the agreement which compels SLC to give Ten Sports an opportunity to match the amount offered by the highest tender. Only if it fails can we offer the TV rights to another company" said Dharmadasa explaining the background of the issue.
" The SLC appointed committee then decided that the initial option of re-negotiating with Ten Sports was the best course of action. Thus we informed the Minister and this SLC committee had several meetings with the Minister over this important issue. We advised the Minister to get the Attorney General's view on the matter. Though the media release states that the Minister sought AG's advice, it was actually SLC which wanted to get AG's views on the matter" said Dharmadasa.
"AG advised that we have to offer the rights of one Indian tour to Ten Sports and then only can we call for tenders. If we do not take the proper course of action, SLC will end up paying millions of dollars to Ten Sports for breaching the contract terms. We don't have to go far back to find such huge penalties SLC paid due to blunders committed by the officials due to various personal agendas" said Dharmadasa.
The cricket board went through an extremely bad experience with TV Company Nimbus in 2001 when the then SLC interim committee headed by Vijaya Malalasekara scrapped a deal and SLC ended up paying USD 5 million in damages to Nimbus.
Yesterday's Sports Ministry Media Release stated that the Minister Aluthgamage had rejected a request by Dharmadasa to offer the SLC TV rights for the next seven years to Ten Sports without calling for Tenders.
"Though Dharmadasa made a request that TV rights be offered to Ten Sports for the next seven years according to the previous agreement's terms with the same company, Minister Aluthgamage after taking advice from the Attorney General, decided to cancel the deal and instructed the SLC to call for open tenders" said the release.
"After so many rounds of talks, it is shocking that the Minister had to issue a press release without discussing the matter with SLC first" said Dharmadasa.
Another dubious TV deal signed by Liyanagagame came under the spotlight in 2011 when Sports Minister Aluthgamage ordered a probe into the controversial Nimbus agreement which cost SLC several millions of US Dollars.
A three-member committee headed by the former Supreme Court judge Jagath Balapatabendi and that included secretary of the Power and Energy Ministry, M M C Ferdinando and North Central Provincial Council official W A Tissera probed the matter. The report was however never made public.
Nimbus, an Indian based media and entertainment company, was involved in an arbitration battle in 2010 with SLC after the TV company defaulted a payment of USD 3.6 million.
However, SLC later came to a settlement with the company after accepting a lower figure than what was due.
SLC filed arbitration proceedings against Nimbus when the company failed to honour a payment that was due for securing the rights of India's ODI series against Sri Lanka, played in February 2009.
The deal was signed on January 21, 2009 between SLC and Nimbus.
The TV rights deal was struck for an amount of USD 6 million, which was considered by many as a figure much below than what it was worth, as the experts thought that the high-profile series could have been worth as much as USD 15 million.
During that time, a One-day International involving India was estimated to be worth around USD 3.5 million.
At the time this deal was struck, the minister had suddenly and strangely cancelled SLC's existing TV rights contract with Ten Sports, which was to run till year 2011, contending that there were irregularities in that deal.
However, after the series was over, the former minister (Lokuge) made a U-turn and asked SLC to sign a fresh deal with Ten Sports. It is this deal which is currently in place and ends this year.
Meanwhile, when the deal was struck with Nimbus for the India series, the authorities ignored the basic requirement of a bank guarantee, which was a compulsory component.
It was because of this lack of bank guarantee that SLC had no way of recovering their dues when Nimbus refused to pay USD 3.6 million after the tournament was over.
So ultimately, the SLC had to initiate arbitration proceedings that also cost SLC millions to pay the lawyers and in various other costs such as travelling to Singapore for the arbitration procedure. (Courtesy: DM Online)
---
TV Rights Deal – Key factors
| | |
| --- | --- |
| 1. | Existing agreement between Taj TV (Owning company of Ten Sports) Dubai and SLC signed on January 29, 2009 for host broadcasting rights for the period of April 1, 2009 to March 31, 2013. |
| 2 | The contract was worth US $ 67,874,000. |
| 3 | SLC was governed at the time by Sports Ministry Secretary S. Liyanagama who acted as the SLC Competent Authority. |
| 4 | Clause 2.6 of the agreement states that six months prior to the expiry of contract, negotiations should commence between SLC and TAj TV for a period of 60 days to determine the award of rights for the next term. |
| 5 | If negotiations with Taj TV fails, SLC can negotiate terms with another TV company or can call for tenders. |
| 6 | SLC agreed to a request by Taj TV to extend the negotiation period to December 31, 2012. |
| 7 | SLC top officials and Taj TV officials had an official meeting on November 26 at SLC headquarters. |
| 8 | Taj TV officials draw SLC attention to the clause 4.7 (ii) of the agreement, under which SLC had failed to deliver two Triangular series involving India as scheduled and which have to be delivered to them during the next contract period, even if SLC TV rights go to another party. |
| 9 | As realistically no other bidders would sign a deal without Indian tours, SLC Secretary Nishantha Ranatunga requests the Minister to get Attorney General's views on whether to negotiate with Taj TV or call for fresh tenders. |
| 10 | Negotiation period with Taj TV extended to January 15, 2013. |
| 11 | Without in-bound Indian tours, TV rights would only fetch a minimal bid. |
| 12 | The next scheduled Indian tour will happen only in 2017, so signing another four year deal was not financially viable for SLC. So, they opt to go for a seven year period, but even within that period Ten Sports will have the rights of the Indian tour, putting realistically as best candidates |
| 13 | Any deviation from the previous agreement make Taj TV likely to invoke arbitration, obtain a court stay order for tendering for an Indian series resulting in problems for SLC like cash flow, Legal fees with likely financial damage in a massive scale which financially weak SLC cannot face. |
| 14 | SLC informs the Minister of these facts. |
| 15 | At a meeting on January 13, Taj TV agrees to a binding price of US $ 60 million for the TV rights for the next seven years from April 1, 2013 to March 31, 2020. |
| 16 | Ten Sports also undertakes to meet the production cost which is estimated to total as much as US $ 20 million. SLC estimates the offer by Taj to reflect a 40 percent increase compared with the previous contract. |
| 17 |  Taj TV writes officially to SLC on January 11, 2013 asking for SLC confirmation to the agreement to finalise and conclude the deal by January 15. "We Thank You for the spirit in which these negotiations were carried out" Taj TV tells in their letter to SLC Secretary Nishantha Ranatunga. |
| 18 | Deputy Solicitor General Viraj Dayaratne informs Sports Ministry Secretary on January 21, 2013 that "it will be improper for the Hon. Attorney General to advice Sri Lanka Cricket at this stage" as the agreement had been approved by private lawyers. |
| 19 | SLC CEO Ajit Jayasekara informs the AG through the Sports Ministry on February 6, 2013 that one of the two Indian tours has been delivered and only one Indian tour remains to be delivered to Ten Sports. |
| 20 | On the same day, AG's department writes to Sports Ministry Secretary to say that the due Indian tours have to be delivered to Taj TV and gives the opinion that SLC can call for bids if the negotiations with Taj have failed. |
| 21 | Sports Minister Mahindananda Aluthgamage orders SLC on the same day (Feb 6) to call for worldwide tenders as per government guidelines and informs SLC not to include the 2017 Indian tour in the tender. |
Latest Headlines in Sri Lanka