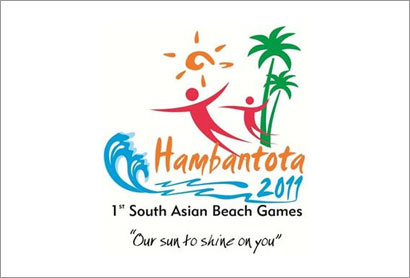 All South Asian countries have given their consent to host the inaugural South Asian Beach Games in Sri Lanka, and the the Ministry of Sports has taken all necessary steps to hold the first South Asian Beach Games Festival in Hambanthota from October 8th to 17th, Minister of Sports Mahindananda Aluthgamage said at a media briefing held at the Government Information Department today (19).
Sri Lanka was selected over Bangladesh and the Maldives by the South Asian National Olympic Committees in an unanimous decision. A total of eight countries are expected to participate in the 2011 South Asian Beach Games he further added.
The Minister pointed out that, the Authorities have completed the site inspections and have already identified an area of 16 Acres at Gonnoruwa in the District of Hambantota as the location..  Sri Lanka holding the games will bring a tourist boom to the city which is also the bidding City for Commonwealth Games in 2018. The games expect to draw thousands of foreign visitors as well as foreign exchange into the country.
Sports can play a key role in the economic development of the country, especially hosting international games and Sports could also contribute immensely towards the development drives of the country, Minister said.
There will be 12 beach sports namely basketball, football, handball, kabaddi, netball, volleyball, body building, equestrian, life saving, wind surfing and tritholan lined up for the mega event. The highest participation is expected from India.
Eight sports grounds for the events like badminton, Kabadi, Netball have been constructed especially for this festival. Arugam Bay, the famous surf location will complement the games with swimming, sailing and surfing.
Authorities expect nearly 1,000 athletes and other sports personnel representing SAARC countries to participate in this festival.
South Asian Beach Sports Fund is handling the construction according to Urban Development Authority plans.
Source: Government News Portal