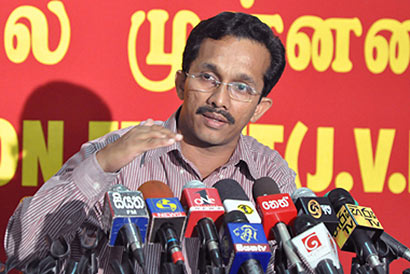 JVP MP Sunil Handunnetti strongly condemns the statement made by SLFP MP Arundika Fernando that Mr. Handunnetti too has seen the missing Journalist Prageeth Eknaligoda alive in Belgium.
MP Fernando made this statement at the Homagama Magistrate court today (16) saying that the JVP MP told him so.
THe calling of evidence from MP Arundika Fernando regarding the "Disappeared" Journalist Eknaligoda was commenced today.
And Mr. Fernando further said that he too does not believe that MP Handunnetti would admit it.
But when queried by Sri Lanka Mirror, the JVP MP said that the Govt is playing many dramas to cover its recent crimes of abductions and murders.
(Source: Sri Lanka Mirror)