Hidden hand in country's governance: Gammanpila
Posted by Editor on October 20, 2016 - 6:45 am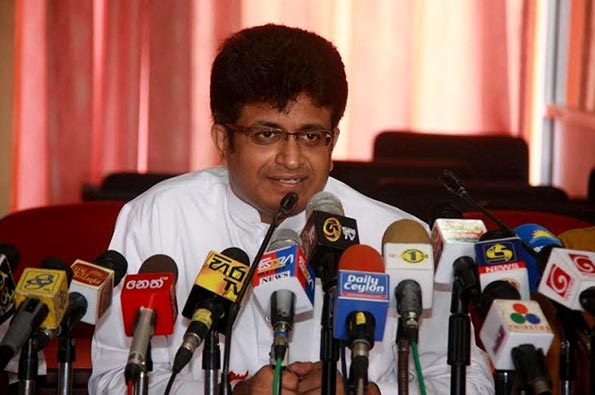 Referring to the recent remarks by President Maithripala Sirisena about the FCID, CID and the Bribery Commission, Pivithuru Hela Urumaya (PHU) leader Udaya Gammanpila noted that this indicates there was a hidden hand involved in the governance of the country.
While noting that the President was the head of state, the government and the Cabinet, Gammanpila said if he is not aware of the conduct of the above three institutions, there has to be a problem somewhere.
Addressing the media in Colombo on Tuesday, Gammanpila also accused the government of purposefully delaying the National Audit Act.
"President Maithripala Sirisena promised to present the National Audit Act to Parliament for adoption during his 100 day programme. However, even after 500 days he has failed to fulfill this pledge," Gammanpila said.
While noting that the act empowers Parliament to safeguard public funds and ensure their proper utilisation while strengthening the hands of the Auditor General, Gammanpila questioned whether the government was intentionally delaying the actin order to control public funds, the way they want.
Gammanpila charged that the government was stalling the Audit Act as they do not wish for increased transparency, when it comes to the utilisation of public funds. He said although the members nominated to the National Audit Commission last December were being paid their salaries, they had nothing much to do.
According to the proposal by the government the Commission will be headed by the Auditor General. The members to commission have been appointed by the President on the recommendations of the Constitutional Council, he said.
The Commission will be entrusted with making appointments, promotions, transfers and initiating disciplinary action within the relevant sector. A National Audit Office too is to be initiated to help the Auditor General to carry out the functions.
(Source: Daily News – By Kamal Jayamanna)
Latest Headlines in Sri Lanka