Highest priority for fostering inclusiveness and removing bitterness
Posted by Editor on September 23, 2011 - 11:56 pm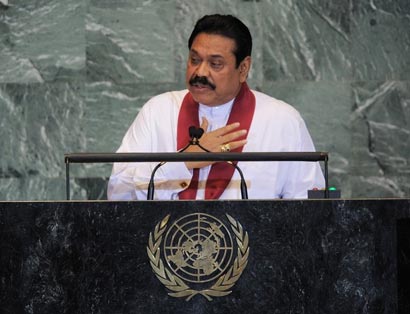 Highest priority is given to fostering inclusiveness and removing remnants of bitterness from the hearts of our people, President Mahinda Rajapaksa said addressing the 66th session of the United Nations General Assembly at New York today (September 23).
"As important as economic development is we have attached the highest priority
for fostering a spirit of inclusivity and removing any remnants of bitterness from the hearts and minds of our people." he said.
He also stressed that contrary to "malicious propaganda," the armed forces are today engaged in the development of infrastructure in the Northern Province, which was destroyed by the terrorists.
The numbers of the armed forces present in the Northern Province is at a minimal level, President Rajapaksa stated in his speech, which commenced at around 8.30pm Sri Lankan time today.
Courtesy: Ada Derana
Latest Headlines in Sri Lanka