Hirunika vows to continue her fight to bring her father's killers to justice
Posted by Editor on January 15, 2014 - 7:42 am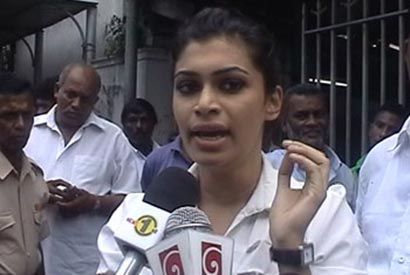 Hirunika Premachandra, daughter of the slain Presidential Adviser and former UPFA Parliamentarian Bharatha Lakshman Premachandra said that she would never abandon her battle to bring the murderers of her father to justice.
She was appointed by President Mahinda Rajapaksa the SLFP Organiser for Colombo Central on Sunday (12). She is expected to contest the forthcoming Western Provincial Council Election scheduled for end March.
Hirunika told The Island that she was happy to have met President Rajapaksa after about two years to discuss various matters pertaining to her life, political aspirations etc. She said that certain persons had caused a rift between her and President Rajapaksa but it had been sorted out.
Among the others present at the discussions were Hirunika's mother Sumana, first lady Shiranthi, Hambantota District Parliamentarian Namal Rajapaksa and his brother Yoshitha.
Hirunika entered politics in 2012 from the Sri Lanka Mahajana Party (SLMP) after her father's killing.
(Courtesy: The Island)
Latest Headlines in Sri Lanka